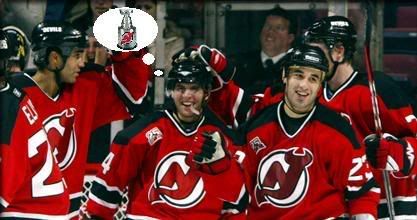 Technically, the season's half way point is the 41 game mark, but so much attention is paid to where a team stands at the All-Star Break. For the Devils, it's only a few steps from the peak.
First, may I say it's amazing that a man of Brian Gionta's stature can carry an entire team on his back night in and night out. Seriously, how many more games are you going to ride this guy to a win? The effort was all-around Saturday vs. Philadelphia, but Gio once again emerged as 'the man.' It's hard to believe, but New Jersey sits only 8 points behind Nashville for the number one spot in the entire NHL. Thanks to Montreal, they are only 7 points behind Buffalo for the Eastern Conference lead. Talk about out of nowhere! It's been a consistant effort this year after a very inconsistant start, but there's no way I'm complaining right now. The push for number one start's in a week, so get ready: the best the season has to offer lies ahead.
So, we finally get to see an All-Star game this year. I just hope the unveiling of the new and 'improved' jerseys doesn't ruin the festivities for me. Tampering with the NHL uniform is borderline heresy, but Gary has no soul anyway. Shanahan the captain of the East? This IS going to be interesting, I call East over West 9-7. Enjoy, everyone!
Let's Go Devils!