Hopefully we'll get to do at least a couple of these, but we'll make do with what we have. So now, I present to you 2 Man Advantage's Serious Series One Roundup! And the award winners are…

THE KING OF AWESOME: Zach Parise.
If there's a Conn Smythe of the first round, Mr. Parise would without a doubt be the winner. Leading the team with a seriously awesome six goals in six games, Parise is easily on his way to the best post-season of his oh-so-young career. I love it, and you should too.
OUT OF THE DOG HOUSE: Martin Brodeur.
He might have ended the first round tenth overall in goaltending (out of 19, no less), but Marty rebounded quite nicely in Game 5 and 6 to be a definite deciding factor in the series. Shutting down Vinny Lecavs and Martin St. Louis ain't no picnic, but he found a way to do it in the final two frames of the series. Okay, so maybe Brad Richards kind of kicked his butt in Game 6, but we're going to let that slide. One shutout is more than enough after giving up nine million goals in the first four games. Atta boy, Marty. That's the number one goaltender we want to see. Oh, and special mention goes to Wade Dubielewicz (it took me about 20 minutes to figure out that spelling), Banna Pads Fleury, and Kari Lehtonen for stinking up the joint to make Marty's numbers look a bit better. My hats and bananas off to you fine folk.
WHERE DID HE COME FROM?: Richard Matvichuk.
Oh hellz yes Mattie, I knew you were the gosh darn man! A lot of readers 'round here wanted nothing to do with Richard when he was finally declared healthy from the sometimes fatal salary cap injury, but after Colin White came down with yet another injury (seriously, dude needs his very own medic staff along with those anger management classes), Mattie stepped into the lineup and absolutely shined. He may have started off a bit shaky in his '07 post season debut, but he's only gotten stronger and stronger yet as the series progressed. His defining moment? Easily Game 6, making shot block after shot block and showing absolutely no signs of wear and tear, even drawing a penalty on Tampa Bay golden boy Vincent Lecavalier. Oh, and Tampa fans, I love you all you know, but there's no way Mattie embellished on the cross-check. If I may remind you, Mr. 'chuk did undergo serious back surgery during the summer and spent the entire season in the stands of the Continental Airlines Arena. And let me tell you, walking up and down those stairs will not make your back feel any better whatsoever.
STEPPED UP FOR ONCE IN HIS LIFE: Scott PooGomez.
Yeah, I did have to rub my eyes a couple times to make sure I wasn't seeing things, but Scotty actually leads the league in points with nine, one above a bunch of other guys, but who cares about them, right? Man, that's some crazy stuff there.
Oh, I'll admit it — he has looked absolutely wonderful these past few games. Rather inconsistant for the series overall like his goaltending counterpart Mr. Brodeur, but I'll take it. His puck handling skills are to die for, and he made the Tampa Bay defense look like fools skating through the zone so effortlessly time and time again. And yes, I may have had to wipe a bit of drool away after Game 6 watching some of Gomer's skills at their finest. Why can't he play like that all the time?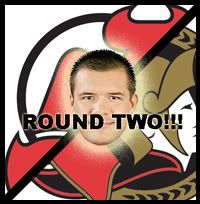 So, the boys have Ottawa for Round 2 and it's going to be one tough series, fo' sho'. I'm kind of wishing for Jeff Friesen, but we'll make do with what we have. I'm sure Zach has quite a few more tricks up his sleeve, and I'm seriously hoping for a repeat performance of Game 6 from Scott Gomez all series long. I can dream, right? Hey Ottawa blogs — don't be strangers! We've met some great bloggers on Tampa's side of the coin, and we'd love to hear from you Ottawa folk as well. Oh, and good luck to the Sens! You shall hear no predictions from me!