Howdy gang, Josh here with your game recap, filling in for an under-the-weather Darren.
The Devils topped the Panthers for their first win of the young season, a 4-1 victory on Saturday in Florida. That puts the record at 1-1-0 going into Monday's early-season gut-check match with Ottawa.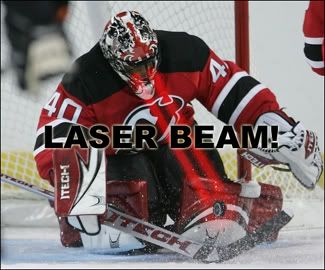 Anyone who was watching the game (or reading the 2MA live-cap, of course!) knows there is only one good reason why the Devils even had a chance to win this one after the first period, and that reason's name is Mr. Kevin Weekes.
The Devils decided that Weekesie needed a trial by fire to begin his New Jersey career and chose to not bother with defense through the first twenty minutes. Weekes stood on his no-longer-concussed head, stopping 20 of 21 shots in the first period. TWENTY ONE SHOTS! Somehow the Devs managed to walk away from the first period locked in a 1-1 tie, thanks in large part to #1 between the pipes.
Are you surpised I've gone three paragraphs without mentioning one Martin Brodeur yet? THAT'S how good a game Weekes had. (Brodeur, I should note for those unaware, was out due to having to fly from Florida to New Jersey and back again because of unspecified "personal reasons." Though he got to Sunrise in time for the game, it was decided that morning that Weekes would get the nod in goal.) Of course it's not safe to gauge one player's worth on one game's performance, but I think it's safe to say no one's going to be too afraid of handing a game to Kevin Weekes the way they seemed to be afraid of handing a game to Scott Clemmenson.
Is it ridiculous to say that there could be goaltending drama when your number one goalie is the best in the game? Yes, yes it is. Marty will likely get the nod on Monday and is not in any danger of losing the starting job he's earned over the last 12 years, of course. But what Weekes showed in his semi-emergency start on Saturday should go a long way in getting Marty days off without worrying about a huge drop-off in performance in the cage.
The Devils now head north for an early-season showdown with the Senators, 3-0-0 and looking impressive so far. Look out for a preview and live-cap tomorrow right here!