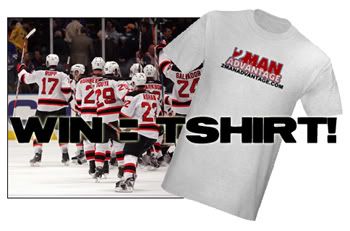 Dear New Jersey,
Do it again. That's all I ask.
Yours forever,
Patricia
XOXO
PS~ If you guys win tonight, I will personally give one lucky reader a 2MA t-shirt.
READERS: LEAVE A COMMENT ON THIS POST BETWEEN NOW AND 9:00 PM ET CHEERING YOUR DEVILS ON. IF THE BOYS PULL THROUGH TONIGHT, ONE LUCKY WINNER WILL RECEIVE A 2MA SHIRT. WINNER WILL BE CHOSEN RANDOMLY. DO IT UP!