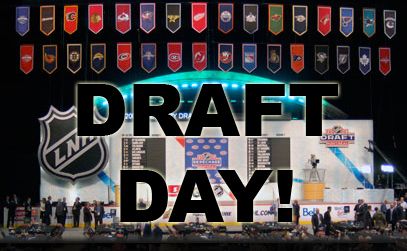 Is it drafty in here?
Oh, it's almost July. Never mind. Just a weak Entry Draft joke huh. My apologies.
So, it's that time of year again. The future of the NHL will be determined by the calls of crusty general managers, granting the dreams and wishes of  scrawny framed, baby faced boys far and wide.
How I love the Draft.
Nothing too spectacular going on right now. Mr. John Tavares ended up going first overall to the New York Islanders, while picks two and three saw Victor Hedman and Matt Duchene go to the Tampa Bay Lightning and Colorado Avalanche, respectively.
Tavares, I'm sorry.
In other news, Chris Pronger was traded to the Philadelphia Flyers for the Flyers' entire roster plus seven hundred draft picks. Fancy.
Okay, okay, so I'm a little weak in the knees merely thinking about Pronger in the same division as Black 'n Red, but come on — two firsts, a (conditional) third, Luca Sbisa, AND Joffrey Lupul? Highway robbery I say!!!!!!!!!!!!
And yes, I did just use an obscene amount of exclamation points.
So maybe I'm trying to defer my sheer fear in the solidity of Philadelphia's 09-10 defense by mocking the deal, but WHATEVER. That's a lot for a defender that will only play, what, a couple more seasons?
Yeah, I know. The Flyers are going to be a good team next year, 'specially with Pronger's elbows flying at Devils forwards left and right. Sigh.
Alas, we have a little way before pick number twenty-three greets us. Barring any last minute moves, Lou Lamoriello is expected to pick a skilled center to usher in a new era of awesomeness in Newark.
Check back for any late breaking news involving the 2009 Draft here at 2MA!
EDIT 8:02 PM: The Islanders are serious. Snow 'n co just traded, like, 8393 of their picks for Columbus's #16 pick. Wow. Serious, serious stuff here. Serious.
EDIT 8:52 PM: Long Island just got even more serious. Pick #12 goes to the Isles while Minnesota gets, uh, a bunch of picks. They won't have any picks left at this rate!
EDIT 9:36 PM: Quebec native Louiiiiiiis Leblanc to the Montreal Canadiens. How fitting. Who the heck goes to Harvard for an education anyway? …not that I'm jealous or anything. Whatever. Leave me alone!
EDIT 9:48 PM: Calgary up to pick at 20 but there is word of a trade. Likely a giveaway to the Devils for the whole Brent Sutter debacle. Let's see.
EDIT 9:50 PM: Yup! Calgary gives pick #20 to New Jersey in exchange for picks 23 and 84.
EDIT 9:58 PM: Another trade to report: Anaheim sends pick 21 to Columbus for picks 26 and 37.