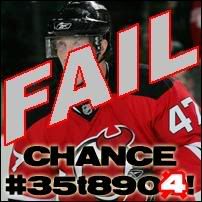 Well, it had to happen sooner or later. The only problem was it happened later rather than sooner.
Anyhow, let us all rejoice. Barry Tallackson has been given the axe by the Devils and has officially been placed on waivers. The deadline for any other team to claim him was about an hour ago, so I'm assuming he'll be playing in Lowell. Forever.
Sorry Barry, looks like you're just another Adrian Foster.