Feast your eyes on this: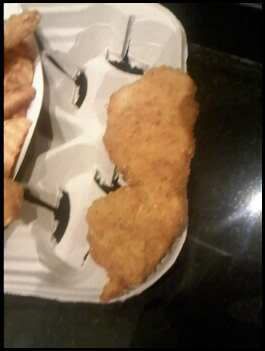 There you have it, folks.  The REAL reason the Devils walked away with the win last night.  Alright, that might be a bit superficial.  The FIFTY shots on goal might've had some small part in that, too.
But seriously — how often do you sit down with a plate of chicken fingers and look down to see one that looks EXACTLY like the state you are in??  Am I the only one who smells a major marketing scheme here?!
Well, even if I am, I'm going for it.  Who else thinks we should send a little e-mail to the Devils and try to get the chicken fingers in the joint all cut into the shape of the Garden State?!
Too bad they weren't fish-sticks. 😉