I thought it would be another day or two before we saw the roster but Christmas came a little early this year! The Devils have trimmed their roster down to twenty-three, and it looks a little something like this: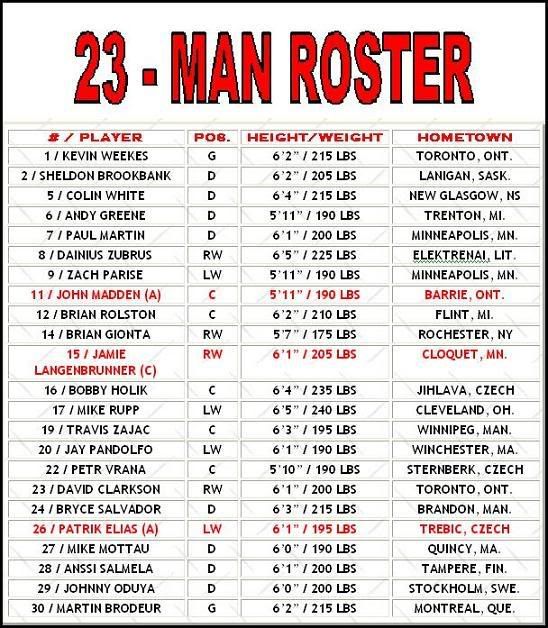 You may notice a few surprises such as Petr Vrana & Anssi Salmela grabbing roster spots. Vrana ousted Rod Pelley who was assigned to Lowell of the AHL. To me, Salmela isn't exactly a surprise… after watching him play live on Long Island last week I had a strong feeling he had earned a spot on the big team — especially after his off-balance rocket that beat Joey MacDonald to put the Devils up 3-0. Salmela's biggest Achilles seems to be his puck control at the point, but the issue seems to be cleaning up fast and shouldn't even be a problem once the puck drops on Friday.
Speaking of Friday, the lines figure to look a little something like this:
– FORWARDS –
Elias – Rolston – Gionta
Parise – Zajac – Langenbrunner
Pandolfo – Madden – Clarkson
Rupp (Vrana?) – Holik – Zubrus
– DEFENSE –
White / Salmela
Mottau / Oduya
Martin / Salvador
Brodeur
I should also note that Fedor Fedorov has been placed on waivers. Apparently the Devils gave up on him and it's not exactly a mystery as to why. The guy has a weak work ethic and that won't carry you anywhere in this league, especially under Lou Lamoriello.
Although I can be quoted as saying that the team hasn't done much to improve, I am ready to accept my helping of crow. After reviewing the roster and taking in a live pre-season game, I can see a noticeable difference in this years squad. They are bigger, faster, and a ton more aggressive than any team in recent history.
If pre-season was any indication, I think the Devils style this year will surprise many — players & fans alike.