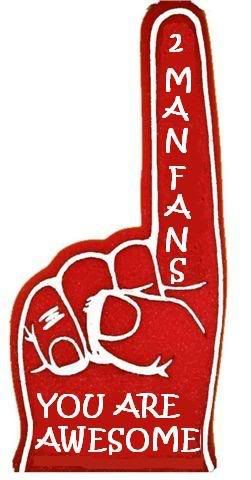 Boy, yesterday was fun hectic weird insane wasn't it? If the action went on any longer, I'm sure I would've been arrested and charged with aggravated assault on my browser's 'Refresh' button. Don't worry, Refresh was ok. However, several bags of Doritos are in critical condition after yesterday's long haul.
Ok, in all seriousness: the likes of the past trade deadline pretty much coincide with the past few weeks here at 2manadvantage, and I'm feeling a lot of love right now. The response we've gotten over the last few weeks/months has been nothing short of incredible. The peak of it all, (for me at least) was noticing our site linked on MSGNETWORK.com a few days ago. That means a lot to both of us.
I want to take some time out to say Thank You to all the readers who have been checking us out, and those of you who stopped by yesterday during the craziest day of the NHL season. We're glad to know you guys appreciated what we did. Many of you sung praises through your comments, and I want you all to know that they mean so much to us.
The march to the playoffs is on, and hopefully we'll be celebrating Devils wins all the way into June, if ya know what I mean! (One thing I'm not celebrating right now is my playoff invoice… argh!) Anyway, Thank you all once again for giving myself and Patricia a valid excuse to waste away our days at our respective computers :).
Let's Go Devils!
PS » Kick some ass in Calgary, David!