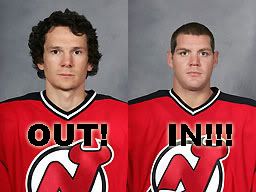 Well folks, we're only a few hours away from Game 1, and I bring you the unfortunate news that Patrik Elias will not be in the lineup tonight. Why? Poor Cap'n has a "head cold."
Yeah, sure…
My guess, his butt probably fell off. You know, it's hard to play without a butt. Hip checks might be quite difficult to execute without a butt, I'd reckon.
Aside from such sad news, we bring you another bit of info — Mr. Anger Management himself should be dressing tonight. That's right folks, Colin White is back.
I know, I said I wouldn't make any predictions when it came to this series, but I do have one trick up my sleeve. My crystal ball tells me that Colin will likely skate no more than a period and a half of hockey and have to leave the game with some sort of groin problem or back spasms.
Ha! Hey, who knows…
Alas, me thinks the Devils will possibly dress seven defenseman tonight, 'cause, well, there ain't no way Mattie is sitting. Throw Oduya away for all I care, but Mr. 'chuk is untouchable right now, got it?
I guess it's possible to see Marshy tonight, but I doubt it. If so, it'll be nice to welcome a familiar face back into the lineup. Yeah, he's no Jeff Friesen, but he's good for an overtime goal or two, right? Right? Anyone?
Okay, in all seriousness, it does appear that David Clarkson will be making his postseason debut tonight. Yay for him.
But, uh…I think we might be in trouble.
Okay, Mr. Elias, I know you have a "head cold" and all, but take some damn Advil and get your butt on the ice.
If you still, you know, have a butt, that is…