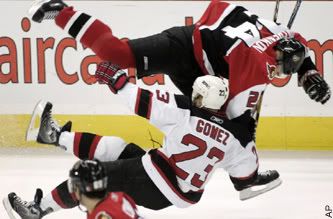 For anyone who has ever worked in the retail industry for any substantial amount of time, the word "inventory" is enough to make a grown man cry. In my case, gouge my eyes out with a rusty spoon. Several 14-hour shifts later, I am freeeee!!! God help you all.
Enough with the excuses, let's get down to business. So, everyone is up to date on the bet that Mr. Brodeur and Mr. Emery agreed on, correct? Ya know, the one about who could out-suck the other one? Incase you missed it, Brodeur totally won. Although credit Ray: at times he did make Sens fans wish for Patrick Lalime back. 😉
Gambling addictions aside, the New Jersey Devils are going to have to come out and play some seriously inspired hockey if they want to play another game in Continental Airlines Arena. Granted the semi-comeback was nice and all, but it takes a full 60 to beat a team like Ottawa. Yes, boys, I'm afraid that means you have to play the 1st Period as well as the next two. Sorry, that's how the playoffs work.
Hopefully the Devils will get a shot in the arm, as reports indicate that Captain Sniffles will be back in the lineup tonight, bringing some coordination back to the Devils offense. Dude, have you ever heard of AIRBORNE?! Seriously, it's obviously a lot better than whatever you were ta
king. (And you don't have to give the government a DNA sample to purchase some!)
So here's your chance, guys. Treat Game 2 like the ol' "Do-Over" shot you were awarded with when a car suddenly interrupted your breakaway in the glory days of Major League Street Hockey.
Marty, that means you might wanna invest in a new glove. Or some bigger shoulder pads. Last time your glove side was picked more than a Jason Newsted bass solo. Brutal, man!