11:45 PM ET: Hoo-boy, what an ending that was. Nice to see Jamie L come through, took him long enough, eh? More to come in the Game Breakdown!
PS~Much love to Mr. Corvo courtasy of 2 Man Advantage. Tee-hee.

11:29 PM ET: This seriously does not bode well for my heart nor my stomach. My poor body.
Well, one overtime down. Devils didn't look too bad, and I did have to giggle a bit at Ottawa for taking a too many men penalty in the extra session. Those are always fun. Granted, the Devils kinda sorta shoulda had one as well, but I won't tell if you don't. To 2OT we go…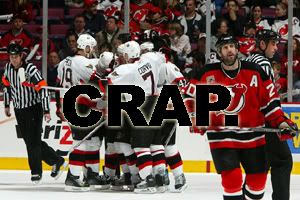 10:35 PM ET: Welp, I'm pretty much thinking 2-0 series lead for Ottawa at this point. Great way to let Ottawa creep back into the game and eventually tie it with, what, like 20 seconds left in the third? Nice. Really, nice boys. Oh, and Mr. Gionta — goal or not, you're on the crap list right now for taking a penalty at the end of regulation. Overtime power plays to Ottawa are not exactly where the party's at, mmkay? Seriously, Where's Jeff Friesen when you need him? Better step it up, boys. Otherwise, I will kick each and every one of your asses. And I totally mean it.

9:12 PM ET: Apparently my TV has other plans. No sound = no live-capping. Yeah, I can watch the game and all, but I just cannot pack as much punch into my words than if I had the lovely sounds of Steve and Chico echoing in the background. I will recap the game, no worries, but the live-cap will unfortunately have to wait until Game 3. Poo.

8:52 PM: Oops. Sorry folks, wasn't near the computer for the first period. I shall be live-capping from the second period on. I totally promise. Be back soon!
Well, Joe will be at the game tonight, but me? Sorry to say, I had to turn down a ticket offer to tonight's game due to lackage-of-money..age.
It's really sad, isn't it?
But from bad news sparks good news, as your favorite live-capper will be ranting and raving like a mad(wo)man tonight during the game, so all is well with the world.
If Elias sits out tonight, I will be one unhappy Devils fan. Granted, reports indicate he will play tonight, so he better be on that damn horrible New Jersey ice tonight. Alas, Joe, you better bring the Advil Cold and Sinus with you…and be more than ready to pelt it at the Cap'n if you so happen to see him wandering the stands.
And I will hold you to that, Mr. Bechtel.