And we're back with Part 2 of our Q and A session with Ben from Sens Army. I hit him hard with some awesomingly thought-provoking questions, and I gotta say, he held up strong under pressure! Here's what our Senator-loving friend had to say:
PATRICIA INTERVIEWS BEN!!
2MA PATRICIA: Yous guys are coming into this series as the literal underdog, but the whole NHL world knows what's really goin' down here — the Senators are pretty much the favorite in this series. What are your thoughts?
SENS ARMY BEN: People from New jersey actually talk like that? "Yous guys"? You even spell it?! Awesome. Anyway… There was some debate about this 'underdog status' before the Pittsburgh series, but thankfully that issue has faded away. Most of the media and fans in Ottawa have realized that both the Devils and the Senators are capable of winning this series – it's just a matter of who steps up to the challenge. Those psychological games have faded away in Round 2.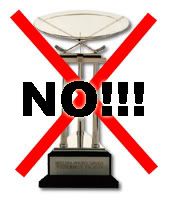 2MA: So, we've seen the same story for a few years now, Senators come into the playoffs like a monster of a team, putting up huge numbers during the regular season and showing they really are the real deal…and then, they fall flat on their faces. As a Devil fan who has dealt with the crushing blows of disappointing playoff performances in the past, I feel your pain. Do you think this year is different though, and why?
SENS ARMY: Not entirely different, but modified, like when Optimus Prime replaces his arm with a bazooka. For one thing, the Senators didn't win a thing this regular season; not the President's trophy, not the Eastern Conference or even the Northeast Division title (keep in mind the Sabres are in the Northeast too), that has got cut into the ego of a team that has destroyed the Eastern Conference for the two previous seasons.
Secondly, after the lockout the Senators got a new coach: Bryan Murray – he's a real hardass. Last year his tough philosophy was rejected by many players. At the beginning of this season the Senators lost Zdeno Chara, and Martin Havlat, and they were replaced by Dean McAmmond, Joe Corvo and Tom Preissing – notice a regional difference here? North Americans, who, presumably, want to win the Stanley Cup as much as the fans in Ottawa. In the off-season sens' GM John Muckler stated that he wanted a more mobile defense, and offensive defensemen like Corvo (who you'll often see rush up the ice on his own) and Preissing (who finished the season +30 or so) fit that mould. If Bryan Murray can get Jason "drop-pass no-look" Spezza to buy into a physical, defensively responsible game then the sens are getting some defence from the forwards and some offense from the D – a potent combo. Unlike last season, the Senators didn't kick ass all this regular season. About 20 games in, the Senators were doing terribly and there were calls for Alfredsson's head, as well as GM John Muckler. They have faced adversity this season unlike previous versions of the Sens.
2MA: I know, I know, you bleed red and black…oh wait…those are the Devils colors too…uh, well, okay, so you bleed, uh, SENS red and black (there we go!), but at the end of the day, which goalie's coat tails would you rather ride to Stanley Cup glory — Mr. Martin Brodeur or Mr. Ray Emery?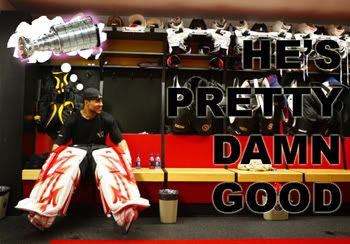 SENS ARMY: Well there's no question that Brodeur is the more established goaltender, but Ray Emery has the ability to win games on his own when hot. Would I trade Emery for Brodeur? Certainly – anyone in their right mind would. But does Brodeur have a theme song? Sens fans are hoping for a Cam Ward-like performance from Rayzor. But in Ottawa we don't really base a team's success rate solely on the goaltender's performance (but don't tell that to Patrick Lalime.)
2MA: Your team is in quadruple overtime and the opposition is breathing down your neck…you need that go-to guy to get the job done. Who's your hero? And similarly, who do you think is the most, or POTENTIALLY most lethal player left in the playoffs?
SENS ARMY: The Senators will live and die with Daniel Alfredsson. Alfie, Alfie, he's our man, if he can't do it no one can! (well no one on the Senators).
Most lethal left in the playoffs? Teamu Selanne rings a bell, Jagr is a solid pick, and for the wildcard, Jason Spezza – he has the talent to go end-to-end and score a goal, it only happens once per season but when it happens even the Devils' fans jaws will drop. He's lethal like a snake that only makes enough venom for one bite per year.
2MA: Everyone else has something to say about it, so let's just get this question out of the way — what are your thoughts on the NHL's less-than-amazing attendance figures? You being a Sens blogger and me a Devils', we really come from two completely different sides of the coin. Let's face it, your building could easily sell out three times over, and ours, well, is on life-support when it comes to attendance figures. Buuuut, in our defense, for what butts we DO have in the seats, our fans are as loud and supportive as they come. Quality over quantity, right? …or am I just sugercoating a dire situation?
SENS ARMY: You may not hear it in the 'States, but Gary Bettman is a (expletive deleted) moron. He attempted to sell the game to locations that never see ice, even on their coldest days. Solid, passionate, small-market teams like Winnipeg were moved to Phoenix – hockey makes front pages in Canada, does the city of Phoenix know that their team is coached by Wayne "Jesus on skates" Gretzky? Do they even know they have a team? Honestly, I would have little sympathy if New Jersey or Phoenix or LA moved their team – would the city even miss them? Quality is great, but no matter how loud you are, each fan only pays for one ticket.
2MA: If the Senators did happen to fall in the post season, which team would you grudgingly root for?
SENS ARMY: Probably any remaining Canadian team – Vancouver I guess.
2MA: At that same token, do you think this is Buffalo's year?
SENS ARMY: Very nice. But we've seen great regular seasons fall apart too many times in Ottawa – ask me after the Cup has been handed out.
2MA: Senators aside, what has been your favorite playoff storyline of '07?
SENS ARMY: The goalie duel between Luongo and Turco in Round 1 of Vancouver vs Dallas was quite a story line, especially considering it was Luongo's first taste of the playoffs. The fact that Anaheim (one of those previously mentioned no-ice towns) is so strong is surprising – nicely done (Ducks GM) Brian Burke!
2MA: Thoughts on the officiating thus far in the post season? If you ask me, some of these referees need to be brought out back and pelted with smelly, rotten tomatoes. Seriously.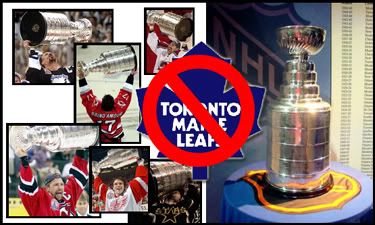 SENS ARMY: I scream 'WEAK!!' at the TV at least 3 times per period because of the questionable calls that occur each and every game. But it's consistently retarded… at least it's uniform.
2MA: And finally, what is your favorite part about this time of year?
SENS ARMY: The fact that there's hockey every night, and a sens game nearly every-other night, and the Leafs are nowhere to be seen.
Much thanks again to Ben and Sens Army!