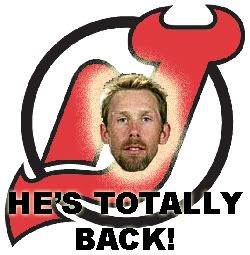 …seriously.
I can't make this stuff up.
Reports out of Canada indicate that Mr. Marshall has indeed been added to the New Jersey Devils roster. I can't really divulge the details, as I do not speak French, but if there are any developments that I can actually understand, I will bring them to you as soon as possible.
But really, I have no clue as to why Marshy was called up. And no offense Lou, but this is the wrong series to get Grant for — he was the Tampa Boy Wonder, remember? Ottawa is totally Jeff Friesen's realm of awesomeness.
Alas, I don't see Marshall suiting up for the Devils unless there happened to be some catastrophic catastrophe of catostrophic proportions, but you never know, eh? Maybe this is an insurance move just in case Captain Elias can't suit up tomorrow due to his "cold."
I wonder what number Marshall would wear if he did happen to suit up for the Devils…