2 MAN ADVANTAGE'S TIP OF THE DAY #7: Do not emulate the Staal brothers. Well, at least not Jordan or Eric.
Despite being much the talk of the hockey world during recent seasons, Jordan and Eric Staal may have taken a step in the wrong direction. The NHL brothers were among a group of 14 people arrested during a raucous bachelor party for Eric, who is slated to be married in August. The following is an excerpt from Bodog Beat:
"The Cook County Sheriff's Office said the brothers were among 14 arrested last weekend after authorities received several complaints about "screaming, yelling and playing loud music" at the resort in northeastern Minnesota, about two hours from the Staals' hometown of Thunder Bay, Ontario.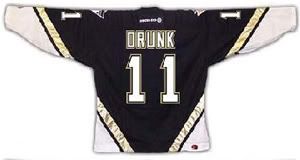 The sheriff said the group was warned multiple times before finally being ordered to leave the Lutsen Resort and Sea Villas in Lutsen, at which point the men gathered on a nearby highway and "began harassing motorists." That's when authorities arrested the group, around 4 a.m. Saturday.
"I didn't expect it would be any more serious than it is – they're noise violations," said Rick Curran, the agent for both players."
Such good role models!