Okay, so after an unplanned day off, we're back. Because there's been so much ado already, I present without any FURTHER ado:
THE AWESOME, THE NOT-SO-AWESOME, AND THE DOWNRIGHT RIDICULOUS of the Devils 5-4 shootout victory over the Flyers Friday night.
THE AWESOME: ODUYA RULES!
I've done this little-used feature twice this season. The common theme? Oduya has been awesome both times. His first career multiple-goal game couldn't have come at a more important time for this offensively-challenged team and really got the goal scoring ball rolling. The final score may have read 5-4, but the Devils actually put seven pucks into the net behind Martin Biron (four in regulation, three in the shootout). It started with Oduya.
And that's without mentioning the insane +25 +/- rating Johnny's sporting. It would have been a perfect night if not for his leaving Mike Knuble alone in the last minute, giving Philly a point. But I'm willing to overlook that for now. Well done, Mr. Oduya, well done.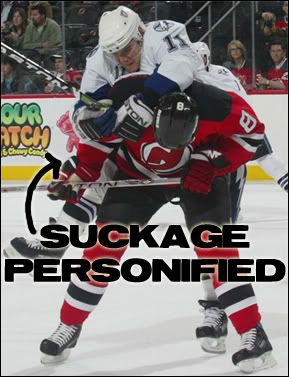 THE NOT-SO-AWESOME: VITALY VISHNEVSKI AND SHELDON BROOKBANK
You're killin' me, Smalls. We have a small village of defensemen, and somehow these two have played the majority of recent games. I take back what I said after the Ranger game, I don't want the same defensemen playing for the rest of the year, because I want someone – anyone – in in place of Brookbank. I'll take Greene back. I'll gladly take Rachunek in his stead. Vish can stay for now, but only if he starts using his head when using his body. You can't use the latter without the former, that's how you wind up the anti-Oduya, with a -11 +/- rating.
THE DOWNRIGHT RIDICULOUS: STOP ALLOWING LATE GOALS!
Remember last year, when the Devils took years off our collective lives by scoring some seven or eight goals in the last minute, with Marty pulled for the extra attacker?
Well, it looks like karma is coming around and the Red N' Black boys are paying for it in spades this year. Four of the last six games, the Devils have allowed a goal in the last five minutes of play. No two were more crushing that Nigel Dawes' shoulder shot and Knuble's tying goal in the last minute Friday night. These are things that cannot happen to playoff teams with such regularity. It's a frightening trend that must be nipped, like, yesterday.