11:53 PM ET: A bittersweet moment, but we must give congratulations to Richard H. as he has taken home the 2MA t-shirt. Thanks to all who entered!
____


10:10 PM ET: What a waste. Season over.

10:08 PM ET: …and that's that. Staal fires one past Marty with just seconds left. You've gotta be kidding me.

10:07 PM ET: Devils with the timeout. I'm not sure my heart can handle this.

10:06 PM ET: Well, we have a minute left. Please do not break my heart, New Jersey.

10:05 PM ET: DAMN IT DAMN IT DAMN IT.  Tied game.

10:01 PM ET: Marty with a purty glove save on Rod Brind'amour. Do I need to bust out the You Go Girl picture? I think I do. Ever since that crap goal Brodeur gave up early in the first, he's been on FI-YAH.

9:57 PM ET: Two-on-one, Madden and Whitey. That's almost as good as a Colin White penalty shot.

9:51 PM ET: Martin Brodeur is a pretty darn good goalie. Just sayin'. He's keepin' the lead for the Devils right now.

9:51 PM ET: Cam Ward is a pretty darn good goalie. Just sayin'. He's keepin' the Canes in it right now.

9:47 PM ET: Madden with the game on his stick, can't quite get it high enough on Ward. Consequently, Tuomo Ruutu gets absolutely reamed by Patty Elias. This has not been Ruutu's night.

9:47 PM ET: GOOD KILL GOOD KILL GOOD KILL

9:46 PM ET: MARTIN BRODEUR!!!!!!!!!!!!!!!!!!!!!!!!!!!!!!!!!11ONE!1

9:45 PM ET: Captain-brunner takes a bad penalty…no good. This is a huge kill here. DO IT.

9:38 PM ET: Madden and Pandolfo on a two-on-one? Wow, I'm having serious flashbacks here.


9:33 PM ET: So, yeah, normally the Rangers Suck chants annoy the heck outta me, but there's something so divine about hearing 17,625 fans mocking the failed season of the Blueshirts in unison.
Loves it.

9:32 PM ET: HOW DID THAT NOT GO IN? Elias, you're fired.

9:29 PM ET: Let us all take a moment bow our heads in silence for the Rangers' 2009 season. Rest in Peace, New York. Rest in Peace.
…Nelson, I need to borrow your laugh right here.

_____
9:15 PM ET: Oh, and thanks to everyone who entered the 2MA t-shirt contest! Winner will be announced at the conclusion of tonight's contest!
_____
9:13 PM ET: And we're done with two! Devils with an additional buck-twenty left on the power play going into the third period.  I need a drink.


9:11 PM ET: Atta-boy, Zachy. Good to see Parise back on the ice immediately after getting his cheek ripped open.

9:08 PM ET: Okay, I was totally kidding about, you know, any injury to Zach Parise. Poor pretty boy takes a stick to the face, draws blood and we're on a four-minute man advantage. Make Gleason and the Canes pay Black 'n Red!

9:04 PM ET: GOOD KILL GOOD KILL GOOD KILL

9:02 PM ET: I'm going to punch Zach Parise in the knee. Keep your stick down holmes! 'Nother penalty kill for the Devils. Gotta stop taking the penalties.

9:00 PM ET: GOOD KILL GOOD KILL GOOD KILL

8:56 PM ET: If Facebook had a Does Not Like button, I'd click it for that play. BAD PENALTY CALL for flip's sakes! Two-man advantage for the wrong team. Huge kill coming up. DO IT BOYZ! 'Kay, maybe Facebook has taken over my life too.
Speaking of, add us on Facebook! …ah crap. Addicted.


8:50 PM ET: YUS!! POWER PLAY GOAL SUCKAS! 3-2 NEW JERSEY! What a PLAY by Brian Gionta! Amazing awareness, throws it over to Brian Rolston who *gasp* FINALLY GETS A GOAL! Oh my GOSH it's like it was in the stars…

8:48 PM ET: Solid shift by Black 'n Red results in another pee-pee. If I don't get my power play goal, I'm going to cry.

8:37 PM ET: Uh…defense? Hello? Tied game. That power play goal would have been lovely, eh? Whatever, Ray Whitney is stupid.

8:36 PM ET: Why does our power play suck so much?

8:34 PM ET: Huge pee-pee! …uh…that sounds wrong. I WANT A POWER PLAY GOAL DARN IT.

8:33 PM: 'Kay, Brendan Shanahan is awesome. Solid two-way play tonight by the 75893-year-old forward.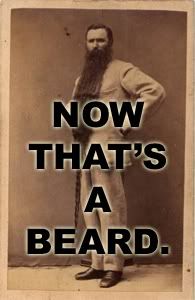 8:15 PM: PS Jay Pandolfo can grow a playoff beard like no one's business. Shades of Scott Niedermayer anyone? …lies. That man came out of the womb with a full, furry, fantastic beard.
8:14 PM: Shaky start, solid ending. Good period overall. I like when the defense doesn't completely suck. I also like when Captain-brunner looks like his old self.
KEEP IT GOING
KEEP IT GOING
KEEP IT GOING
KEEP IT GOING
KEEP IT GOING
8:03 PM: I LOVE JAY PANDOLFO.
_____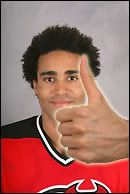 Holy…Johnny O-flippin-duya!
That was the hit of the playoffs right there ladies 'n gents. I'm pretty sure poor Tuomo is still shakin' in his skates right now…if he even remembers what skates after that boomer of an open ice hit.
KEEP IT GOING
KEEP IT GOING
KEEP IT GOING
KEEP IT GOING
KEEP IT GOING