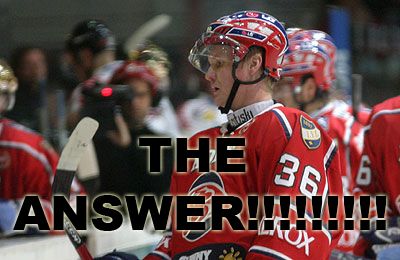 Today the Devils signed former draft pick Ilkka Pikkarainen.
Exciting, right?
The 28-year-old forward spent the last three seasons in Finland, posting 24 goals and 13 assists for 37 points in 54 games last year. He also racked up 149 penalty minutes.
The 220 pound Pikkarainen should add a physical edge to the Devils roster, 'specially after losing the amazing all-star Bobby Holik to retirement and the wonderfully mediocre Mike Rupp to the Pittsburgh Penguins.
Orrrrr, could it be possible that the Finn was signed to potentially entice another European player to the join Black 'n Red?
Saku, I'm talkin' to you.
…I know, I know. One can dream, right?
Oh, yeah, for the sake of reporting, Pikka was the 218th pick in the 2002 Entry Draft for New Jersey.
Fancy.