Black 'n Red continued their mad spending spree this morning, signing goaltender Yann Danis to a contract. Terms are unknown at this time.
Danis spent last season on Long Island, posting a 10-17-3 record in 31 games played (29 starts). The 28-year-old Quebec native posted a 2.84 GAA with a .910 save percentage.
Oh, and he also had three shutouts.
While we outstretch our arms to Mr. Danis, we must take a moment and mourn the loss of backup goaltender Kevin Weekes.
'Kay, he didn't die or anything, but we totally loved using the Weekes Laser. Sheesh. First Gionta, now this?
This hasn't been a good month here at 2MA I'm afraid.
Rest in Peace, Laser. Rest in Peace.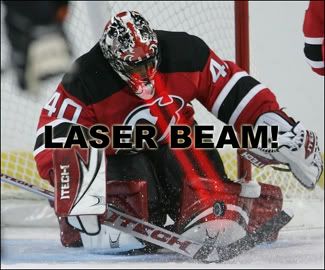 We sure are going to miss you.