10:57 PM: Kay, this looks like a good place to end the night. Thanks for tuning in everyone, check back for any (or no?) Devils signings as they happen!  -Josh & Patricia

10:55 PM: Aaand we have numbers for the Havlat deal. Looks to be six years at $5-million a year.

10:30 PM: Apparently the Wild are also closing in on Saku Koivu.

10:26 PM: TSN's Darren Dreger reports that Havlat and the Wild do have a verbal agreement in place.

10:23 PM: Unconfirmed report that Martin Havlat has signed with the Minnesota Wild. More to come.

9:58 PM: Okay folks, we're going to stay live until 11PM ET and then call it a night. Josh and Patricia are quite tired after a hectic July 1st. Naturally, if anything breaks, we'll be sure to report it. Thanks for sticking with us tonight!

9:42 PM: Report out of Montreal indicates Saku Koivu, Alex Tanguay, and Alexei Kovalev will not be re-signed. Lou, GET ON IT. KOIVU. NOW.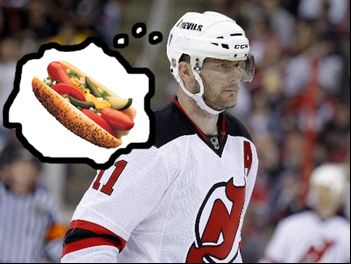 9:19 PM: I now dub thee John "Chicago Style" Mad Dog.

9:03 PM: Confirmed, Madden to the Hawks. One year at $2.75-million.

9:02 PM: We can confirm that Madden will NOT be returning with the Devils next season.

9:00 PM: John Madden may have signed with the Chicago Blackhawks. Working on it.

8:57 PM: The Phoenix Coyotes have signed Jason LaBarbera to a two-year contract. Financial terms undisclosed.

8:53 PM: Rich Chere is reporting that prospect Jeff Frazee may very will be the backup to Martin Brodeur next season for the Devils. Looks like we might not get to use the Weekes Laser picture anymore…sad face.

8:51 PM: The Calgary Flames have signed Frederik Sjostrom. Terms undisclosed.

8:47 PM: Chris Neil has decided to stay in Ottawa after all, re-upping with the Senators for a four-year, $8-million contract.

8:35 PM: Indeed. Gio has been reunited with Scott Gomez in Habs-land. Five years at $25-million. Uh…Saku, wanna play in Newark?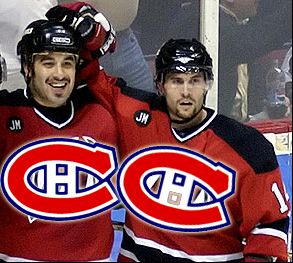 8:33 PM: Reports indicate Devils winger Brian Gionta has signed with the Montreal Canadiens. Working on confirmation.

8:23 PM: Marian Gaborik has signed with the New York Rangers  for five years at $37.5-million total. Overpay much? So, let me get this straight. Rangers get rid of Gomez as a salary dump, then spend seven ba-gillion dollars on an oft-injured winger? Genius.

8:07 PM: Good ol' Tom Gulitti reports that we might hear within the next few hours where Mr. Brian Gionta will land.  Montreal has been the number one talked about team for the good part of the day.

7:28 PM: The Columbus Blue Jackets have signed Mathieu Garon to a two-year, $2.4-million deal.

7:19 PM: Jason Strudwick has re-signed with the Edmonton Oilers for $700,000 over one year.

6:54 PM: Things seem to have quieted down a bit. We're still here though, ready to report any free agent signings or trades!

6:24 PM: Samuel Pahlsson has signed a three-year deal with the Columbus Blue Jackets worth a total of $7.95-million.

6:15 PM: Steve Sullivan has re-signed with the Nashville Predators. The deal is worth $7.5-million over two years.

6:11 PM: The Bruins have signed Steve Begin to a one-year, $850,00 contract.

6:01 PM: Bob McKenzie is reporting the Komisarek deal to be worth five years at $4.5-million a season.

5:55 PM: Mike Komisarek has signed with the Toronto Maple Leafs. Working on terms.

5:54 PM: Little bit more info on the Kubina deal: Colin Stewart also goes to the Leafs in exchange for the rights to Tim Stapleton.

5:49 PM: Vernon Fiddler has signed a two-year deal with the Phoenix Coyotes that will pay him $1.1-million a season. Byron Bitz has also re-signed with the Boston Bruins. Terms not disclosed. The Ottawa Senators have re-signed Mike Brodeur to a one-year, two-way contract.

5:46 PM: The Minnesota Wild have signed Greg Zanon to a three-year deal worth a total of $5.2 million.

5:42 PM: Still very quiet in New Jersey. I know one 2MAer who would love to see Saku Koivu inked by Black 'n Red.

5:36 PM: Cammalleri is confirmed per Darren Dreger. The Hurricanes have also re-signed Michael Ryan to a two-way deal.

5:28 PM: We're hearing five years at $30-million for Cammalleri, while Garnet Exelby is Toronto's return for the Kubina deal.

5:26 PM: Several outlets are reporting Mike Cammalleri has signed with the Montreal Canadiens while the Pavel Kubina-to-Atlanta deal has finally gone through. Working on terms for both deals.

5:25 PM: The Carolina Hurricanes have re-signed Patrick Dwyer to a two year, two-way deal. Blockbuster.
5:11 PM: The San Jose Sharks have re-signed Kent Huskins to a two-year, $3.4-million contract while David Koci has gone to the Colorado Avalanche for a one-year, $575,000 deal.

4:46 PM: Devils bruiser Mike Rupp has signed with the Pittsburgh Penguins, two years at $825,000 a year.

4:42 PM: Hal Gill has signed with the Montreal Canadiens  for two years at $4.5-million total while the Florida Panthers have inked Ville Koistinen.

4:40 PM: The Philadelphia Flyers have signed Ian Laperierre to a three-year deal at $3.5-million.

4:33 PM: We're hearing three years at just over a million per season for $3.6-mill total. Good for you, Mr. Clemmensen. Good for you.


4:27 PM: Unverified reports indicate Devils netminder Scott Clemmensen will be signing with the Florida Panthers for a multi-year deal. Working on confirmation.

4:22 PM: Adam Pardy re-signs with the Flames.  Meh.
4:12 PM: 2 years, $2.8 million and $3 million for Cole.
4:09 PM: 4 years, $15 million for the Bulin wall, according to TSN.  Cole's looking at a 2 year deal from Carolina.
4:01 PM: TSN reporting Nikolai Khabibulin to the Oilers, no word on years or dollars.  Erik Cole also said to be re-signing with the Hurricanes.
3:50 PM: Jaroslav Spacek to the Canadiens, three years, $11.5 million according to the Boston Globe.  With every new Canadiens signing, I get a little more hopeful the Devils will wind up with Saku Koivu…
3:42 PM: Signings have dried up over the last half hour or so.  It's getting kinda boring.
3:28 PM: Hello 2000! Brian Boucher has signed with the Philadelphia Flyers for two years at $925,000 a season.

3:16 PM: Joel Ward re-signs with Nashville, 2 years, $1.5 million per.  Aaron Rome signs with Vancouver for $550,000.
3:12 PM: Why can't anyone with an easy name do anything today?  Lukas Krajicek re-signs with the Lightning.  One year deal.  Financials undisclosed so far.
3:08 PM: Scott Niedermeyer re-ups with Anaheim, one year, $6 million + bonuses.  Drats.
3:05 PM: TG says that both Gionta and Shanahan are fielding offers.  Guess no one cares about poor John Madden.
2:54 PM: Donald Brashear to the Rangers.  Me no likey that. Two years, $2.8 million.
2:50 PM: Andy Strickland reports that Mike Knuble's signed with Washington, two years $2.8 million per season.  Nothing official on Gio yet.
2:46 PM: Steve Montador signs with Buffalo.  2 years, $1.55 million per.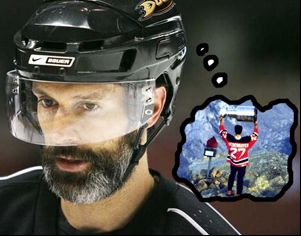 2:41 PM: Get your height jokes in while you can, boys and girls, rumors are that Gio's nearing a deal with a new team.
2:39 PM: TSN just listed the Devils in a laundry-list style rundown of teams that may be interested in Scott Niedermeyer.
2:32 PM: Forgive me for the pun I'm about to make, but…Twitter is all a-Twitter that Brian Gionta is apparently a hot commodity this afternoon.
Been nice knowin' ya, shorty.
2:23 PM: Dwayne Roloson to the Islanders, 2 years, $2.5 million per according to NY Newsday.  Tomas Kopecky to Chicago for two years, financials not yet known.
2:15 PM: Final numbers on Andy Greene's contract:  Two years, $1.475 million.  $725,000 in year one, $750,000 in year two for a cap hit of $737,500 per year.  All of this info via TG at Fire & Ice.
2:12 PM: 12 years, $62 million for Hossa from Chicago.  Hot diggity the 'Hawks better hope he's healthy and not cursed.
2:11 PM: Conkblock himself, Ty Conklin has signed with the Blues, two years, $1.3 million.  Prepare yourselves for an outdoor game, St. Louis.  Ty likes those games.
2:05 PM: Matt Walker to Tampa Bay, four years/$1.7 million per according to TSN.
2:04 PM: Apparently Chicago's looking to deal Huet now.  I think they don't have much of a choice.
2:02 PM: Hossa's a done deal in Chicago, rumored to be TWELVE years at 5 million a year.
2:01 PM: Darren Dreger reports that the Lightning were in the running for Hossa too.  Which just proves that yes, the Lightning really were given cap immunity.
1:56 PM: Craig Anderson, goalie extraordinaire, to Colorado for two years, financial terms undisclosed.
1:47 PM: A big name!  Finally!  TSN is currently reporting that Marian Hossa will make it to the Stanley Cup Final and lose with the Chicago Blackhawks this year!  Terms undisclosed.  Also, David Booth re-signs with Florida for 6 years/$25.5 million.
1:46 PM: Pavel Kubina rumored to be being traded to Atlanta.
1:45 PM: Pierre LeBrun of ESPN says otherwise on the officialness of the Kovalev deal.  So, it's still rumored.
1:40 PM: Kovalev deal is now official (or not…), he re-ups with Montreal for 2 years, $8.75 million.  Greene's a two-year deal, still waiting on the dolla dollas.
1:32 PM: It's a very slow go of it so far.  Only three signings in the first hour and a half.  If I recall correctly, it picked up between 2 and 3PM last year.
1:18 PM: Kovalev re-signing with Montreal is still just a rumor.  Deal has yet to be signed, according to TSN.
1:13 PM: Tough guy Colton Orr has inked a four-year, $4-million contract with the Toronto Maple Leafs.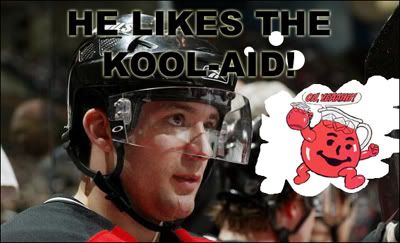 1:07 PM: Okay Devils fans, we can all breathe easy.  The official Devils Twitter feed reports that the Devils have re-signed Andy Greene.  Thank God that's taken care of.  Since it's the Devils, terms are, naturally, undisclosed.
12:59 PM: Rumors flying that Alex Kovalev has re-signed with Les Habs for 2 years and about $8.8 million.  Not confirmed yet, though.
12:49 PM: Radek Dvorak re-ups in Florida.  Two years, $3.4 million. n Ohlund's deal is indeed frontloaded, Darren Dreger tweets that Mattias will take home $22.5 million of the $24.5 million in the first five years of the deal.  Speaking of tweets, why not follow us?  @2MAblog
12:27 PM: Ohlund terms disclosed:  SEVEN YEARS, $3.75 million per.  Gotta be frontloaded.  Just has to be.
12:15 PM: First signing!  Perennial Devils trade rumor Mattias Ohlund has signed with the Tampa Bay Lightning.  Terms yet to be disclosed.
12:03 PM: No free agents have signed yet.  What's taking them so long?!  Jerks.
12:00 PM: Let the festivities commence!  The floodgates, they are being opened.
CLICK TO READ MORE!!! —> [Read more…]