So the boys have completed their first road trip of the season and are returning home with a very respectable 4-1-0 record. The trend thus far seems to be thousands of shots on goal with minimal results on the scoreboard, but apparently that's all that's been needed. Marty has been Marty, and the D has been…well, the D. You know — giving us the occasional coronary every now and then, nothing out of the ordinary.
Oh, right — and we've lost Bobby Holik and Brian Rolston. Yup, Both of them. Rolston probably for a month or two.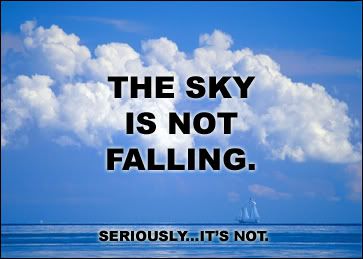 I really don't know what to make of this situation. It's kind of funny — in a cosmic sort of way. Ya know, we bring back two veterans from the past and instantly our team is somewhat of a threat again. We get all amped up about it, and now they're both sidelined less than three weeks into the season. On the other hand, there's the fact that neither one of them has really had much of an impact on the outcome of the first five games, aside from Rolston's game-winner in Atlanta.
As a Devils fan, I almost feel contractually obligated to round up my fellow fans and organize a cult-like mass suicide. But, for some reason or another, I'm still optimistic that the favorable results will continue. (Maybe that's you-know-who's way of telling me to stop drinking.)
This year's Black & Red squad is a deeper one than last year's, and I think we will be reminded of that over the next month or so. For instance, the group is definitely younger. Vrana is much more favorable to have in the lineup than Sergei Brylin; and on the same side of things I'd rather have Leblond playing over Aaron Asham. (Leblond has been called up to fill in for Holik for Wednesday's game vs. Dallas.) Are they going to be easy replacements for Holik & Rolston? No. Hell No. But I think they will fit in nicely with the mold of the team and continue to help do the little things right. After all, that's what has gotten this team to where they are now.
At one point or another, every team in the NHL will be going through a scenario similar to this. There will be other star-players that will go down and other rookies will get their shots with the big boys. I guess a positive to take out of this would be the fact that we're only five games into the season, we have a .800 winning percentage, and six of the next seven will be home games for New Jersey. Not to mention the upcoming opposition hasn't exactly been making much noise thus far.
The next several weeks will be very telling of the dynamic and character of this year's New Jersey Devils. I'm tempted to watch with my hands half-covering my eyes, like it's a badly-written television drama.
I guess what I'm trying to say is… Don't hit that panic button just yet. I think you will be pleasantly surprised with the way the team will perform in the absence of Rolston & Frankenstein.
If, two weeks from now, all hope seems to be lost…just be happy it's not the last week of March.