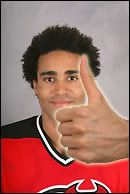 Johnny sure does.
The Swede re-upped with Black 'n Red for a multi-year deal worth $3-million a season.
Not bad, Mr. Lamoriello, not bad.
Oduya was sure going to be a hot commodity on the open market this July, so this Devils fan right here is definitely happy that there is some semblance of awesomeness on the blue line in the coming seasons.
Okay, okay, maybe we razzed the poor fella quite a bit in years past, but forgive and forget…right?
RIGHT?
Whatever. I still hate the Pittsburgh Crosbys.
NOTES: The Devils swapped centers with the New York Islanders, acquiring prospect Ben Walter and a conditional 2012 draft pick in exchange for Tony Romano.
In 65 games last season with the Bridgeport Sound Tigers, Walter posted 20 goals and 30 assists. He also appeared in four games with the Isles.