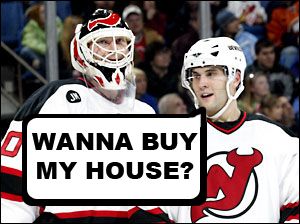 Let me start by saying THIS IS NOT MY BLOG… NOR MY FEELINGS (well it hits a lot of what I feel about Madden jumping ship)… but when you see and read something damn good on the internets and you can ask the person and they don't mind sharing it… the name protected (well unless you know me well you know who this is :p)…. but I figured it was a great and personal perspective on the pains of free agency in the NHL
Is it true? With the signing of Brian Gionta, the Montreal Canadiens are now your second-favorite team?
Yes, for every second that Gionta is there.
Um, WTH? Who has second-favorite teams anyway? What are you, 12?
Yeah, many times I am. It explains why I still think it's funny to use an excessive amount of swear words.
What about Scott Gomez?
What about him?
Well, don't you hate him? How can you possibly root for the Habs when he's on the team?
I got the "I'm a douchebag" vibes from Gomez even during his days in New Jersey. I just ignored it, and him in general, because he was a skilled player making a positive contribution to my favorite team, even helping them win two Stanley Cups, despite his flaws, which of course came out in full force once he jumped across the Hudson. So yes, I still hate him, and he deserves to be eaten alive by the Montreal media and fans for performing well-under expectations. I will laugh if/when that happens. However, my love for Gio far exceeds my hatred for Gomez, so I am pulling for Gio and the Habs to be successful. Yes, that probably means Gomez is going to need to have at least some degree of success, especially since he and Gio will probably be on the same line, as they have been since they were teenagers playing for Team USA and as they were when Gionta broke the Devils' single-season goal-scoring record. I've had plenty of practice ignoring Gomez as a Devil and can do the same with him as a Hab. So what if he has success? It's actually a win-win situation because Gomez having success would twist the knife in Glen Sather's heart, especially if injuries strike Gaborik yet again.
Why do you like Gionta so much? Why is it so easy for you to move on and pull for the Habs?
For those who haven't heard the story yet, I have been a huge Brian Gionta fan since 1998, his freshman year of college, before he was ever drafted. I watched him play for BC during the NCAA Tournament (the Eagles, who also had Clemmensen and Mottau on the team, made it all the way to the final before losing in OT to Michigan that year) and was just in awe of the energy, determination, speed and heart this kid played with, and, at 5'5.5″ (his REAL height :P), to overcome the odds to play at this inspiring level.
He's a special player, and I don't think I've ever actually said that about anyone before. I knew this was a player I had to follow throughout his playing career. On draft day that summer, I would have felt very grateful if he were picked by any team except the Rangers or Flyers because as a Devils fan I automatically would have had to hate him. Never could I have imagined he'd actually be picked by my beloved Devils. It was my beautiful, unrealistic fantasy coming true. Just that moment was a bonus. Who would know that 11 years later, this little guy from Rochester would not only be drafted by the Devils, but he would win a Stanley Cup with them, break the team's single-season goal scoring record, and play 6+ wonderful years here. Talk about a bonus. I hit the jackpot. Because this was all a bonus, I can say with all sincerity that I am so appreciative of the time he spent in New Jersey. The way I look at it, Gionta could have been drafted by the Habs in 1998, and I would have been pulling for them then (or actually not until 2001ish after Gio graduated). I am grateful that he didn't sign with a division rival; otherwise I'd be in no position to cheer him. At all. So no, this is not easy losing Gionta, but it's definitely workable.
Wait, so if the Habs and Devils are playing and Gionta scores, are you going to cheer for him?
Of course not! The Devils remain my number 1 priority. My passion for the Devils far exceeds my Gionta fandom. So Brian, no scoring against New Jersey. Don't make me boo you. I'll do it, I swear.
I heard that you have Gionta and Madden wallpapers on your home and work computers, respectively, and you purchased only Gionta and Madden hockey gear at the Devils' latest equipment sale. Is it true that you jinxed the two veterans into leaving New Jersey?
I have no jinxing powers once the hockey season has concluded. However, I CAN tell you that Scott Mackie has a Clemmensen voodoo doll and is directly responsible for his signing with Florida.
Are you mad at Gionta for leaving? Are you mad at Lou for letting him go?
No, and no. Gionta expressed a sincere desire to remain in New Jersey. It sounds like he didn't get much of an offer, if anything, from the Devils, and I really can't blame him for taking $5M for 5 yrs. from Montreal. He made a good decision. As far as Lou, I know he has put the welfare of the team before everything else, and as desperately as I wanted Gionta to stay (Madden too. Both those guys were perfect examples of what Devils hockey is all about), Lou has earned my trust over the years. If he thinks the Devils need a change and that the young guys are ready, then I believe there's a good chance he's right. In fact, when, to top off all the ridiculousness of July 1, Lou's dramatic signing turned out to be Finnish forward Ilkka Pikkarainen, I could only imagine what brilliant secret Lou (a man talented at finding random gems in Europe) knew that no one else did. Well, we all know the secret, but Lou UNDERSTANDS it. The salary cap is going to drop and a lot of teams will be fucked while the Devils keep plugging along and fighting back when everyone else thinks we're down.
So you're not freaking out that Lou hasn't done shit during free agency while everyone else has?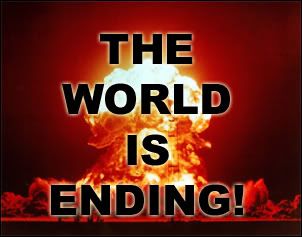 Nope. Everyone seriously needs to chill out. This happens every July 1, and the Devils haven't missed the playoffs in more than a decade. We still have all of our defensemen from last year (Minus Havelid, who doesn't count because he was here for 2 secs. and, well, he's Havelid). We have our top line and 2/3 worth of second line players in Elias and Rolston (though Elias is top line caliber and I think Rolston really should be a LW, so that's a mess that the next coach is going to have to figure out because Rolston should NOT be on the third line). It's more than sufficient to start out training camp with.
What do you think of the whole coaching situation?
With the Sutter situation, it is what it is. With the new coach (be it Lemaire or whomever… Lemaire is def. not the end of the world; he gets the most out of the players that he has and really teaches the young guys, something that wouldn't be bad to have for a couple of years), if everyone keeps using that stupid cliche, hit the stationary bikes!!!
These signings just happened! How were you able to compile a list of FAQs so quickly?
They're frequently ANTICIPATED questions. I am too lazy to develop/maintain a Web site/blog to develop a following and accumulate questions from it. Deal with it.