So. New Jersey and Carolina. Why does this sound so familiar and why do I have only bad memories of past playoff series' between these two? Whether you think back to 2002 or 2006, both years still leave a bad taste in my mouth. Given the way the Devils have sized up with the Hurricanes throughout this year's Regular Season, you can probably understand why I'm having a hard time "getting up" for this year's playoff match-up.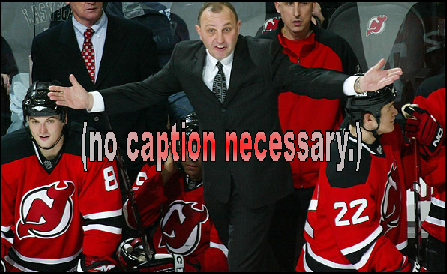 (USEFUL REMINDER: I am a pessimist.)
To a certain extent, it's almost unfair. Roll back to February. The Devils had just come off a weekend that saw them roll over the #1 and #2 teams in the league… without Martin Brodeur. I don't think things could have looked any better for the Devils at that point. The offense resembled the year 2001 and the rest of the team was playing solid, near-flawless hockey. The boys from Newark were the talk of the league. At that point, it wouldn't have surprised anyone if the Devils were still standing come June.
FAST FORWARD — Newark, NJ: Present Day. The Devils are slowly recovering from a hellacious two weeks and are stumbling into the playoffs only to match-up with a team that they have had nearly no success against all season long. The team defense — especially the PK — has been abnormally weak as of late, the PP seems to have fallen into the abyss, and the rest of the offense can't seem to get anything going without the help of some faulty glass-assembly.
At this point, it seems as if this season was just one giant tease that left us all a little frustrated in the end. Despite all the records that have fallen and the plethora of memories that will be taken from this year's campaign, the outlook, to me, is grim at best. The Devils may be the favorite on paper, but Carolina has New Jersey licked on the ice.
Regardless, I will be supportive. The Devils have shown many a critic (myself included) that their foot belongs in their mouth, and that no meal is finer than crow. I can only hope this flicker is only part of the wildfire that we are about to witness over (hopefully) the next several months.
With that being said, break out the rally towels and put away those razors.
It's playoff time!!