Gosh DARN IT, why can't we win a damn game all of a sudden?
Man, we're supposed to be all "hey, my team can kick your team's ASS!" right now, but nooo — we can't beat ANYONE.
Gross exaggeration?
Whatever. I'm ANGRY.
We've lost, like, nine million in a row and it's quite clear that the playoffs are a pipe dream at best.
…oh, we've already clinched a playoff berth? My bad.
I'M STILL ANGRY.
Here's what we're going to do, ladies and gentlemen. First, New Jersey is to STOP taking dumb penalties. That should help matters. I am quite tired of watching us kill at least 35903 penalties A GAME. Now, unless you're going to bring back the entire 2001 Devils lineup, I am not interested in watching our "special" teams being put to such OVER use.
Secondly, we are to give Lens Crafter gift certificates to each and every referee in the NHL.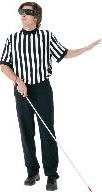 Clearly, these men are having a little trouble with their vision as the ABSURD CALLS (AND NON CALLS!) NEED TO STOP.
Alright then. Are we good? Yes. I feel better.
Black 'n red, DO BETTER. I will not be forced to root for the Hawks for the remainder of this season, despite living in the Windy City.
Oh, and by the way, they ain't lying about that — it's flippin' WINDY here.
This is Patricia Greuter, signing out.