So.  Tonight.
It's a big one.  A little too big for a pair of teams that have been pretty poor in their last four games.
The Devils, of course, are 0-3-1 since Marty Brodeur recorded shutout #101 two Fridays ago.   The Rangers, who play host to NJ tonight at MSG, are 1-2-1 over the last four.  I'm sure this is exactly what Versus was angling for.  Show Us Your V indeed.
Ah, who am I kidding.  We all know the real storyline – not that it's the REAL storyline, but the storyline the media's going to hype ad nauseum – Sean Avery Vs. Martin Brodeur, round whatever.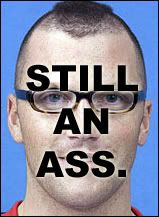 Avery's keep his mouth shut on tonight's game (as probably should have been expected, the Rangers won't allow him to talk to the media 'til post-game), and Marty's dodging questions with relation to Avery.  In reality, there's bigger fish to fry than worrying about Sean Avery – namely, righting the ship before crashing and burning in the first round of the playoffs again, while simultaneously striking a big blow to the Rangers playoff chances.
Avery can do whatever he wants as far as I'm considered, so long as the Devils escape unharmed and with a regulation victory.  Of course, it's easy enough for me to say, I'm not playing the game, nor do I have a hoard of reporters asking me about Avery.  So of course, that's going to be in the back of Marty's mind, and in the back of the team's mind.  Focus is the key tonight, however.
Moving on from that sideshow, the Devils remain pretty awful on the road – losing seven of the last ten.  Tonight's game, of course, is in MSG, which means they'll have to break that pattern in order to come away with a big two points.  The Devils are in the midst of a brutal stretch of games, six games in nine nights.  The Flyers are nipping at their heels, only six points back.  Two points tonight will be huge, snapping a losing streak, opening some more space in the division race, and making the road all the more difficult for the Rangers going into the playoffs.
While the Devils have not been particularly good against the Rangers in the last few years, as we all know, the boys in Red n' Black have taken three straight from the cross-river rivals.  Problem is, they all came with Scott Clemmensen in net.  Marty's beaten New York dozens of times, but not very often lately, so here's to hoping we can right that little bizarre wrinkle of a stat this evening.
There won't be a LiveCap tonight, sadly.  At least not from my end, as I won't be catching the early portions of tonight's game due to schooling commitments.  So kick back, enjoy and game, and for the love of all that is good in the world, let's win this one tonight, yes?  Yes.