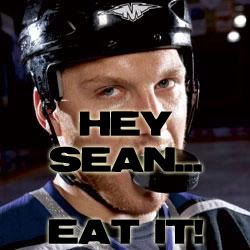 And thus ends the saga of Brodeur V. Avery, at least for the time being. A 5-0 thrashing by the Devils, with every single player wearing the NJ crest looking spectacular. Check out Scott's analysis below – even he couldn't come up with someone to chew out!
As Scott mentioned, Andy Greene looked stellar, putting up two assists and bringing us back to the Andy halcyon days of the 2007 playoffs. Dainus Zubrus clearly is as upset as we are that the Zubbie Counter remains in the cob-webbed cellar of 2MA and is working to change that. Pierre-Luc Letourneau-Leblond had a wicked hit late in the game to go with his first career NHL point. Zach Parise continued his stellar start, adding another goal and assist to his growing point totals. And of course, John Madden finally scored on a fast break-like situation!
Perhaps most importantly though, is that – save for a bad penalty by Clarkson in the first period – the Devils FINALLY figured out how to keep Sean Avery from getting under their collective skin. In fact, I submit that the Devils/Clarkson/Brodeur gave Avery a small dose of his own medicine. Even ESPN took notice of the little shoves and the clearing attempt by Brodeur that whizzed by Avery's head. The Devils frustrated Avery and made him a non-factor. My only question is why they needed a thirteen-game study session last year to figure it out.
So now, with a 5-1-0 record, we move on to a home-and-home with our dear dear friends, the (still winless) Philadelphia Flyers. This could be fun.