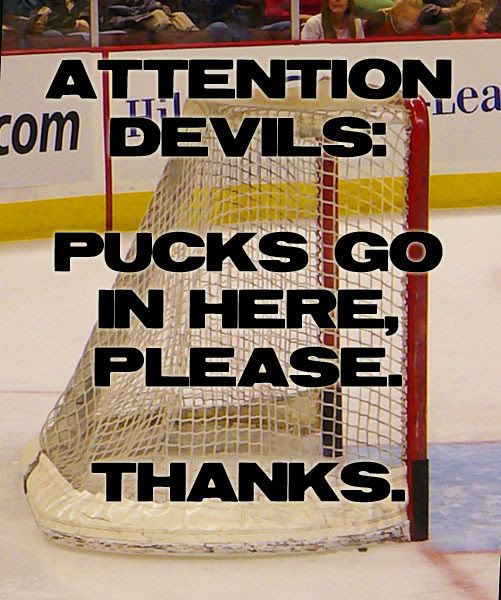 It's four games into the season, and the Devils have scored six goals. It's four games into the season, and the Devils have a .750 winning percentage. Welcome to New Jersey Devils hockey, everybody. Same as it ever was.
So the Devils make do with next to no goals. And it looks like that continues tonight in Washington, as Brian Rolston – you know, the power play quarterback the team signed over the summer – out with a high ankle sprain. The Devils are playing it typically close-to-the-vest on Rolston, saying they'll see what happens, but for comparison's sake, Sidney Crosby missed nearly two months last season with a high ankle sprain. I'm not saying it'll be the same for Rolston, but…it could be.
So in the meantime, Devils fans not living in Massachusetts will get a regular-season look at Petr Vrana, who'll make his NHL debut tonight, likely alongside Dainus Zubrus and Patrik Elias. Vrana's been in the system for three years now, finally making the team out of training camp this season.
So what's to be expected out of young mister Petr? It depends on who you ask. Some out there are saying it's about damn time, that Vrana will be a great addition to the front line and will go a long way in solving our scoring woes.
By the time you're done reading this article, you'll understand that I am not one of those people.
My question of Petr's is simple. As Homer Simpson once asked of Johnny Appleseed, "If he's so smart, then why is he dead?" So I ask, if Petr's so good, why haven't we seen him sooner?
Vrana's spent three years in Albany and Lowell, tallying his best point total last year (20-41-61). Aberration, or finally coming into his own? I hope the latter, I fear the former. Prior to last year's campaign, the highest point total Vrana notched was in his lone year in Albany, topping out with 35 points.
He made the team out of training camp this year, yes. But while he did have a good pre-season, I think it's safe to say that he made the team more likely because of his waiver status – if the Devils wanted to send him back down to Lowell, they ran the risk of losing him entirely to waivers. Rod Pelley was not subject to waivers, thus is why he's currently with the L-Devs.
I hope that Vrana proves to be a great player. I hope that he gives Lou and Brent some things to think about when Rolston's healed. I just hope that we, as a fan base, are not expecting too much of him. He hasn't proved much to me yet stats-wise. I hope that changes, starting tonight.
Now watch, he'll probably pull a Fabian Brunnstrom and net a hat trick in his NHL debut. What was that I was just saying about expectations…?