Archives for November 2006
…oh wait, nothing groundbreaking there.
Oh well.
Quick update.
«» Alex Brooks has been waived. Presumably, he'll end up back in Lowell and resume his captaincy there. Brooks was a pretty good fill-in, he was never really a liability like most of the Devils call-ups usually turn out to be, and was great to chat with. Best wishes, Alex!
«» Tough-guy ice-stripper Cam Janssen has undergone an MRI on his injured right shoulder. The winger could be out for as little as one week to as many as four weeks.
Will post more info as it comes!
The road trip from hell is finally over.  Thank Jeebus.
The West-Coast road trip will be a rarity for the Devils with the new unbalanced schedule, and that's just fine with the Swampthings.  The Devils finished the trip 1-3-1, mustering only 7 goals throughout.  The most crushing day came out of the loss in SJ, a night when both the Islanders and Rangers won their games, leaving the Devils in the dust. They finally seemed to come alive against L.A., but fell short in a shootout.
The aspect of their play that has me smashing remotes on a daily basis is their overly-conservative play.  Scoring 2 goals in a game is not going to get you to the playoffs.  I think it worked about 10 years ago, not now.  I wasn't much of a Cluade Julien fan so far, and this road trip didn't help the cause.  The man's lacadaisical, ho-hum approach to things is not going to cut it.  I wouldn't be surprised if he gets axed quicker than Kevin Constantine.  It's no secret the Devils are a team that needs to constantly be kicked in the ass in order to play at full potential.  I'm sorry, have I said that once, twice, three, four times before? A shakeup is in order – The season is already 1/4 gone. cough*rafalski*cough
I looked at the preceding road trip as a true test of character for New Jersey, and the result is not warming.  The tight rope act failed.  Now come out and wow us, boys. 
Boy am I glad that road trip is over.
What a disgrace.
How many quality scoring chances did the Devils actually have tonight? Two? Three maybe?
This is getting ugly now, especially since every team in the Atlantic Division (yes, even the Flyers) are playing relatively well…except for New Jersey.
(Not so) Fun facts: Brian Rafalski is -10. Patrik Elias is -12 after tonight's game. Rest of the team? Well, they combine for a grand total of -75. Beautiful defense boys, beautiful defense. Makes it even better that they can't score more than half a goal a game these days…
PS~ I still hate Brad Lukowich.
As spectacular as Marty was tonight, he absolutely needs to be benched for a game soon. Can we please get Clemmensen in net for once? This is really ridiculous now.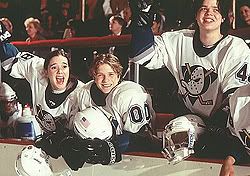 And if it weren't bad enough already that the Devils lost a tough affair, they may have lost Cam Janssen for an extended period of time. In the process of getting his ass kicked horribly, Janssen appeared to injure his shoulder in a fight with George Parros. Limp shoulders barely hanging in the socket really are appealing, I'll tell you what!
33 saves tonight for Marty. Devils mustered 25 shots at Giggy-Pads, including an impressive last-minute flurry in the closing ticks of the game. Sadly, Jamie Langenbrunner's 5-feet-wide-of-the-net attempts weren't enough to propel the Devils to victory.
I still hate our miserable defense, but for the sake of poor Marty's well being, Clemmy really needs to get a start soon, because frankly, he is on the verge of spontaneous combustion if this keeps up.
Pretty much have no words for last night's debacle.
No silly picture, either.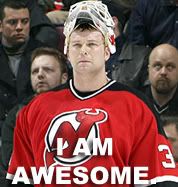 Devils gave up 34 shots tonight against the Leafs. Of those 34 shots, about 9000 were decent scoring chances. Yeah, I'd say we need a serious upgrade on defense.
Poor Marty. I think there are six men who owe him steak dinners right about now.
Coyotes up next. Good thing they suck. Otherwise I'd be really worried right now.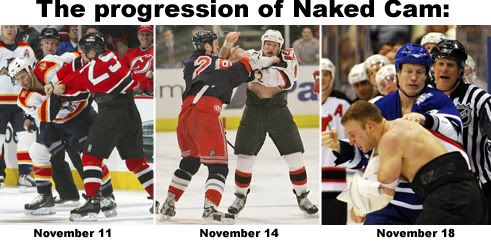 Oh, Jim Fahey was waived.
That is all.