It's always fun beating the New York Rangers.
It's also always fun being in first place. Watch out Buffalo!
So, I'd like to start with a shoutout to our friends over at the Battle of New York blog. Seems like the latest Devils triumph has caused quite the stir over there, with Rangers fans crying fowl, Devils fans crying victory, and Islanders fans…well, just crying. Sorry Long Island, you guys really kinda suck right now.
After taking a gander at some of the latest musings over there and then venturing over to our other friends NJDevs.com, I must say, I'm pretty shocked. Little did I think that last night's affair would have caused SO much controversy. Gee folks, give credit where credit is due! I, for one, think King Henrik had a solid game and I'd also like to pat Jed Ortmeyer on the back for his pla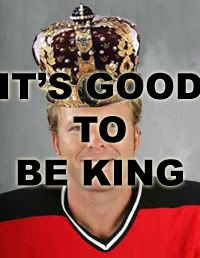 y, but it really does stop there. Jagr gave up on the game (what else is new?), Shany-han really didn't have that much of a presence (well, not enough for me to notice at least), and, well, on the flipside, MVP Marty simply shined. He made his big saves, and he benefitted from the solid play of the stacked six in front of him. No less, the Devils are still playing without Johnny Oduya and Richard Matvichuk, while Whitey has only JUST made his return to the ice himself. Cut us some slack! …or if not, at least realize that, hey, we're not playing with the likes of Scott Stevens and Scott Niedermayer anymore. We're damn proud of our defense, even if not elite, and they're getting the job done. Marty is also getting the job done. The offense is somewhat getting the job done. We might not have the most lethal offense in the world, so when we're only scoring one or two goals a game, we need to find a way to shut down the opposition, whether it be in a trap-like manner or not. Who cares if it's boring. It's a win, and we're winning. A lot. So poo on you.
Whew.