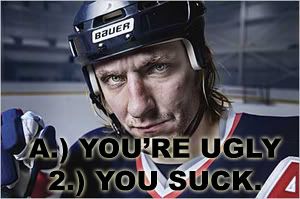 2 Man Advantage's Tip of the Day #3: Darius Kasparaitis sucks.
There's a reason why he was placed on waivers today by the Rangers. Sure, the Rangers suck right now too, but in all fairness to our crosstown crappers, Kaspar is terrible.
So, what is our tip then? Basically, I'd like to let the Philadelphia Flyers know that picking up Darius would be an AMAZING acquisition. Seriously. Go for it guys. He's awesome. He'll solve all your problems. Hell, even put him in net. It'll be great.
Trust me.