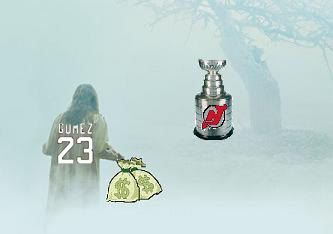 Thanks to a winning scratch-off lottery ticket, not only was I able to get to the game, I snagged seats 5 rows from the glass to witness one of the best live hockey games I've ever been to. The only downside – I had to sit in the Nassau Coliseum and endure the stench of Red Bull and urinal cakes for 3 periods and almost a full overtime. (Thanks, Rafalski)
But this is a happy update! It appears that Scott Gomez has decided to give it the ol' college try and see what he can do to actually help the team, rather than just take years off the lives of Devils fans around the world. First, a game-tying goal to help New Jersey finally beat Atlanta, and the game-winning Overtime goal less than 24 hours later to trash the Isels for the third time in 2 weeks. I'm telling you…we write medicinal articles. The more Patricia and I pick on someone, (I comfortingly refer to it as 'constructive critisicm'.) the better they play! (i.e.: Lukowich, Rafalski, Martin, Elias)
I, as I'm sure you readers do, remember lashing out at Claude Julien and some of his decision making. While I admit some of it is frustrating, the Devils as of late have done a terrific job of buying into his system. Over the last couple of weeks, I am beginning to notice a lot of resemblance between this years team and the 1995 Stanley Cup Championship team. I'm talking about a young, very patient, disciplined, suffocating team, that in my eyes right now, is the hottest team in the NHL – bias aside.
The Devils now hold an 8-point lead in the Atlantic Division over the New York Rangers. The nearest threat behind that – the New York Islanders – are a whopping 12 points behind the Red and Black.
It's a mean streak that's about to get even meaner – the Broadway Blues are in town Tuesday night, and if you don't think the Devils have revenge on their minds you're in for a very rude awakening. (Psst.. Hey Scott – keep up the good work, and remember – it doesn't have to be in the Garden for you to play a decent game against the Rangers.)
Let's Go Devils!