…how quickly things can turn around in the Garden State, eh?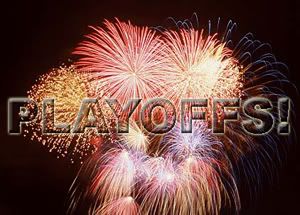 Let us celebrate Zach Parise's career high 30th goal of the season, along with Martin Brodeur's franchise record 44th win of the season, both achieved tonight in the Devils 3-2 win over the New York Islanders.
Oh, and of course the minor detail of New Jersey's tenth straight playoff clinch. Yes, yes folks, the Devils will be making yet another post season run in their 25th season at the Swamp.
Hoorays!