As we did with Game 1, it's time for 2 Man Advantage's Playoff Breakdown: The Awesome, the Not So Awesome, and the Downright Ridiculous
THE AWESOME: Johan Holmqvist.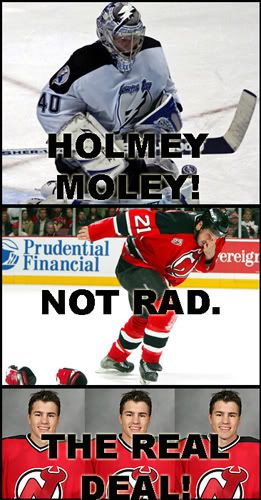 Like I had mentioned in the last breakdown, I really thought Holmer would rebound in Game 2 and put together a sparkling performance. And, hey, guess what happened? Johan put on a mother f'n SHOW, turning aside 34 shots for his first career postseason win. He made quite a few nifty saves, easily outplaying Marty Brodeur. Good for Holmqvist, bad for New Jersey.
THE NOT SO AWESOME: The no-call on Martin St. Louis after he bushwacked Rad Brad Lukowich in the face with his stick late in the third period with the game still in reach for the Devils. Even worse, not a single official called the play dead after Lukowich was sent sprawling to the ice, throwing his stick and gloves away as he clutched at his bloodied face. At least Rad Brad returned, but who's to say whether the non-call played a key role in the Devils' loss?
THE DOWNRIGHT RIDICULOUS: Zach Parise's postseason play. This kid is ridiculous. Seriously, he's phenomenal. Not much can really be said for his teammates tonight, but Zach has continued to shine in the 2006-07 campaign. While we can't take too much away from tonight's loss, we can look at Parise and take a nice, fresh breath of air and realize that, well, even though we don't have too much offensive power, we do have the Zach-Attack on our side. It's very comforting when you're looking at Vinny Lecavs and Brad Richards square in the eye…and St. Louis from a couple feet above.
So, the series is knotted at one, can't say I'm shocked whatsoever — I knew this was coming. It's all about the momentum now, and the Devils need to come back strong on Monday in Game 3′s affair to really have a good shot at this series. Sure, the postseason is still very young, but you do not want to wake a sleeping giant like the Tampa Bay Lightning. I'm not too upset about the game, I mean, the team did have its fair share of chances and did whack a couple posts to boot, but it's always nerveracking losing any game in the postseason.
Oh, and by the way, Scott Gomez totally let me down tonight. Sheesh, the thanks I get for actually praising the poo-head. Looks like I'm going to have to go back to calling him Poomez until further notice.
And for a final note, I'd like to give a word of advice to a select few of the boys for Game 2: