9:36 PM ET: Okay, game is over. Devils lose. Series is only 2-1 Lightning, but it might as well be 3-1 in my eyes. Who should we point the finger at for tonight's loss? Ah, our wonderful MVP Marty Brodeur. I just love how he claims he needs to be the difference in the game and step it up…well, congrats Marty, you were the difference. It's not often said, but it needs to be put on the table tonight:
YOU LET YOUR TEAM DOWN.
Step it up for Game 4, prove you're a damn fine goalie and get the job done. I don't have anything else to say, because the boys really didn't look all that bad tonight. All I can do is scratch at my head and shrug my shoulders. Marty hasn't merely looked human this series, he's looked downright bad.
Stay tuned for our game breakdown, featuring none other than the man, the myth, the legend Joeeeeee Bechteeeeeeeel-tel-tel-tel (yes, my lame attempt at an echo.) Just give us a little time to once again compose ourselves. Hey, it's no secret — we're as emotional as they come when it comes to fans.
9:22 PM ET: Couple minutes left in the game. Not much hope. Matvichuk takes a penalty. It's pretty much all over now. Marty will likely crap another goal at this point. Unless the Devils miraculously tie this game up, I'm shutting down for the night. Stay tuned for a 2MA BREAKDOWN with Joe at the conclusion of the game.
9:16 PM ET: …no words. No words.
9:08 PM ET: Thank goodness for goal posts. Marty needs all the help he can get.
9:00 PM ET: Tie game again. It's the battle of the Crap Goaltenders.
8:55 PM ET: I'd rather have Scott Clemmensen in net. 2-1 Tampa Bay.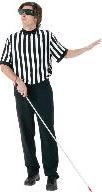 8:46 PM ET: The all-important 3rd period is right around ther corner, and I am scared as all hell. I hate to be that fan who bitches and moans about one-sided officiating, but this has really, truly, absoutely without-a-damn-doubt been ridiculous. When there are even opposing fans saying that penalties should have been called on their team, there's something damn wrong.
8:36 PM ET: The Mad Dog is alive. Holmer just absolutely robbed Dowd. Holmey Moly! Save of the game right there. Marty, take notes. We might have a game on our hands after all…
8:34 PM ET: Uh, explain to me how Brian Gionta is the only player to come away with a penalty after that scrum? Makes perfect sense, really.
8:33 PM ET: Hey, the Devils have LIFE! Keep on shooting the puck. Shoot anything and everything. Hell, even let Marty shoot. Something is bound to go in.
8:31 PM ET: John Madden, I love you. Tied game.
8:23 PM ET: Really don't have much to say at this point.
8:07 PM ET: Can someone explain to me why the Tampa Bay Lightning CONTINUE to use their sticks as weapons to whack players in the faces? That's three sticks to the faces of Devils players in less than two games. Ridiculous. Apparently it's going to take a Devil losing an eye for an official to even call something. Dirty and disgusting.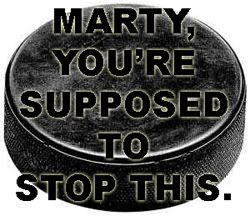 7:53 PM ET: Okay, after taking a couple deep breaths, I have regained my composure. Devils need to come out strong in the 2nd. They gotta stay calm, no more dumb penalties and it looks like they need to actually help Marty out because it's apparent he's lost the ability to stop a puck, especially from any angle whatsoever.
7:45 PM ET: Thank goodness that's over. I'm going to pretend that period didn't happen.
7:38 PM ET: Well. Nice to see the boys took that power play serious. It's starting to look more and more apparant that this team will be a one-and-done. Prove me wrong.

7:35 PM ET: Wow, a high-sticking penalty is finally called on St. Louis. This guy really needs to learn how to not clip players in the face with his stick.

7:32 PM ET: Andre Roy throws nine million hits — by the process of, well, probability, he finally gets called for a penatly. Huge power play coming up here.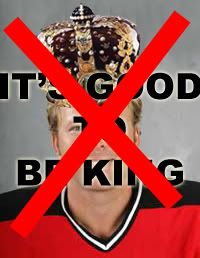 7:31 PM ET: So, the Lightning have managed to easily make Marty look human. Disheartening.

7:27 PM ET: You gotta be KIDDING me! Not Rad, Brad. This is exactly what you guys shouldn't be doing. 1-0 Tampa Bay because Marty Brodeur is pure garbage. This is going to be a long night.
7:23 PM ET: Crap. Keep dem elbows down, Zachy. This is NOT the time to be taking a penalty…especially when you're our best player. Mr. Dowd, get the job done.
7:21 PM ET: Okay, so my bud John F. over at Boltsmag informed me that it is not the arena which is so unbelievably dark, but instead a wonderfully awful broadcast.

7:13 PM ET: Wow, can we say D-I-R-T-Y Mr. Ranger? Granted, I can barely even see the play right now as it appears nearly pitch-black in this arena, but, uh, you can't take out a player like that. No good.
7:13 PM ET: Could it look any darker in this arena? I can barely see the game! Bad broadcast or bad lighting?
7:12 PM ET: This game ever going to start? Jeepers…

6:58 PM ET: Thanks to reader and good friend Hasan, we now know that White is out of the lineup after suffering what the organization is calling a "stiff back." Let's hope that's not code for "disk herniation."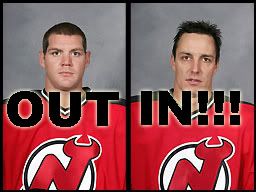 6:35 PM ET: Welp, Game 3 is almost here. Must-win for the boys tonight. Gonna be a bit tricky, though, as Colin White did not take part in the pre-game skate and will not dress for tonight's game. Skating in his place is the seldom-used but often-loved Richard Matvichuk, who will be making his '07 playoff debut tonight. Let's go Mattie!
This is a bit worrying, though. Wonder if the groin is acting up for Whitey again…