*DISCLAIMER*: Everyone tune up your sarcasm meters and suck on some salt.  Hear me out, here.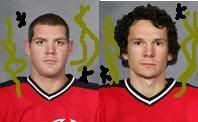 I can't take it anymore.  I just can't stomach this kind of hockey in the Stanley Cup Playoffs.  This is not the New Jersey Devils team that we watched during the regular season. Tonight's game was nothing short of nauseating to watch. 
As far as Game 4 is concerned, my particular gripe is with Colin White and Captain Patrik Elias, who seems to have never figured out how to unlock the safety control on his stick that will allow him to actually shoot the damn puck.  Don't throw that "Emery has been great" garbage at me.  It's disgusting.  'Rayzor' gives up a 9,000-foot rebound on EVERY shot that New Jersey takes, yet there is not a forward to be found within 15 feet of his crease.  It's an Ottawa blessing that the Devils offense is so laid back.  Patrik Elias has a wonderful opportunity from just inside the hashmarks with Emery scrambling to get back to his feet, and he forces a pass to a completely covered Scott Gomez.  Unreal.  You better start hanging out with Paul Martin, Patrik, he could show you a thing or two.  Oh, and that crafty little stop, pull-up, wrist-shot move… lame.  It doesn't work.  Just ask Jeff Friesen.
Colin White's "ho-hum, I have all day" mentality has gotten old and gotten old quick.  He nonchalantly carries the puck around his zone, gets knocked off the play, and then the self-control goes out the window and he takes a stupid penalty.  How many times has that happened?  I can't count that high.  Good thing we locked this guy up long-term. 
I'm not going to start venting about Martin Brodeur.  The guy has kept us alive obviously a lot longer than the team should be, but Marty, you better start caring about those horrid goals that are finding their way through you.  Seriously, hug the post, man.  Another one of those and our season is over.  If this is how the playoffs are going to look with you playing seventy-two million minutes a season, then I think a change is in order.
The envelope is open, but the winner hasn't been announced just yet.  It's going to take 3 solid, textbook New Jersey Devils hockey games to win this series.  Of course I have the faith, but please forgive me if it's dwindling rapidly.