So, we're sadly faced with the way-too-long summer ahead of us, and with long summers come lots of questions — come on, you weren't expecting any different with the New Jersey Devils, were you?
QUESTION #1: Who the heck is going to be the next head coach?
Ah, probably one of the biggest mysteries surrounding the boys. I would love to sit here and speculate the possible candidates for the job, but let's face it, that'll do nothing. Did anyone really predict Claude Julien would be crowned coach last season? I sure didn't. Alas, I suppose it could be possible for Johnny Mac to finally take the reigns, but we know better — with Louie Lams and the Devils, there ain't no thing as a sure thing.
I think at least we can hopefully assume that Lou will not stand behind the bench anymore. Sure, he's uh, already said it and all, but that aside, he wasn't really that amazing of a head coach. The idea of it is certainly fun at first, but the novelty wears off. It just won't work.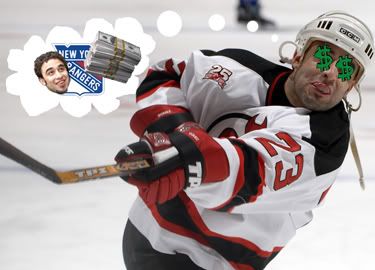 QUESTION #2: Will Scott Gomez remain a Devil?
In short, no.
I really am breaking the rule I just imposed not even two paragraphs up the page, but it's my site, I can do what I want damnit! Ha.
Seriously, though, I cannot for a second see Mr. Gomez donning the Devil black and red for another season. He'll easily command top dollar, and for Louie Lams to award him would be absolutely ridiculous. I'm sorry, but Gomez was poo this season. He had an above average playoffs, but I still wasn't happy with his inconsistant defensive play.
He can sure razzle dazzle the heck out of the opposition with his bee-yoo-tee-ful puckhandling skills, but it more or less ends there. The Devils stifle him to an extent, really, and he needs to be on a team where he can feel free to continue puckhandling his butt off and not worry about backchecking. In New Jersey, it won't fly. He'll find a team with lots of cap room to spare and more than willing to shell out the dollars on him, that's for sure.
Go razzle dazzle yourself to LA, Scotty. We'll miss you if you miss us, okay?
QUESTION #3: What are we going to do about the defense?
In a perfect world, I'd really love to see both Brian Rafalski and Colin White off the team. Unfortunately for me though, this world ain't close to perfect, so who knows what will happen.
Rafalski is an unrestricted free agent, but Colin White? Not so much. He's got a nice hefty longterm contract to deal with, and it's so hard to trade those bad boys away…literally.
I really am just so sick and tired of Mr. Anger Management. It's one thing to be tough, but it's another to continually take dumb penalties on a game-to-game basis. He still is quite a promising defender, and yeah yeah, I know that Scott Stevens himself had quite the anger management problem early in his career, but that was then and this is now. There's little room for error with one of the weakest bluelines in recent memory, so I'd love nothing more than to see Colin White traded for a high draft pick at the Entry Draft, but we all know that's just a foolish pipedream.
Rafalski, on the other hand, isn't getting any younger and if this is who we have to be our number one defenseman, then I'm quite sad. He's not bad by any stretch, not in the least, but I'd really rather use the money for a better source. Unfortunately, yet again, the world is not perfect as the free agent market for defensemen is quite slim, so Rafalski will likely have to do.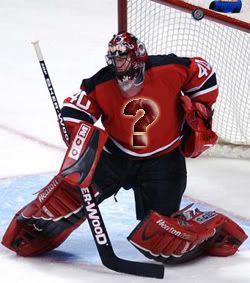 QUESTION #4: Backup?
Sure, it's easy to think the Devils don't have a backup goaltender, but, well, they actually do. Meet Scott Clemmensen, the NHL's most underworked player. He gets a fairly decent paycheck for wearing a butt imprint into the bench, but I still feel amazingly bad for him. He's not that bad! Sure, he really was never going to be a starter anywhere, but I still think he could have been a relatively decent #2 goalie had he actually been giving some playing time. Too late now though. Now he just comes off as a goaltender that will kick your team's ass…in the AHL.
Clemmensen had to wait until enough cap room could be cleared in order to re-sign with the Devils last summer. He waited and waited, practiced with the team under no insurance policy, and waited some more. Man, he sure sounds dedicated to his team, right?
Wrong. He knew it at the time, as sad as it was, that New Jersey would unfortunately be his only shot at seeing any big league time this past season. No other team would sign him. Poor Scott.
What makes this year different? He's had no more playing time, and his numbers aren't all that great either. Oh man. I feel awful for him.
I don't think the Devils will retain Clemmensen this time around. They have a perfectly capable netminder down on the Baby Devils named Frank Doyle that could easily fill Clemmensen's role. They also have Jordan Parise waiting in the wings. It almost brings a tear to my eye, oh Clemmy!
It's my hope that if the Devils do not wish to retain Clemmensen that he will be able to sign somewhere else, but I am highly skeptical. Maybe Phoenix could scoop him up for a two way contract? Who knows.

QUESTION #5: What about the others?
Erik Rasmussen, Sergei Brylin, Jim Dowd, Jay Pandolfo, Mike Rupp, and Brad Lukowich are all unrestricted free agents. Of the list, I'd love for the Devils to retain the latter two. I suspect Brylin will be retained as he should have a team option, but stranger things have happened. Rasmussen has no use on the team and his spot can be easily filled by a David Clarkson or a Rod Pelley, and for Dowd goes the same. Pandolfo will without a damn doubt be re-signed, but Rad Brad might be a bit trickier. I've had a love-hate relationship with Mr. Lukowich this season, but overall, I've really liked his play. With the pickings not so hot on the market, Lukowich could possibly be tempted away by some relatively decent dollars. I hope not.