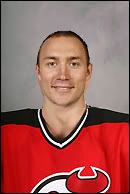 Louie Lams attempted to make a splash in the Free Agency market today.
Well, maybe more of pitter-patter.
In a signing that hopefully will not be the replacement of Brian Rafalski, Mr. Lamoriello signed blueliner Karel Rachunek away from the New York Rangers, giving the Czech d-man a $1.5-million, one-year deal.
In 66 games with the Rangers last season, the 27-year-old registered six goals and 20 assists for 26 points and skated at a minus-nine.
Dear Lord please let Rad Brad re-sign with the team…
Alas…