I have this feeling that last night's game is a preview of what the season may hold for the New Jersey Devils, a complete roller coaster ride. I think the Devils came out with some jump in the first period but once again took the second period off. I'm not sure why NJ feels the need to not play an entire 60 minutes but it's something that Sutter needs to address in the very near future. NJ owned the third period and showed everyone that when they work together and concentrate on the basics, they can be successful, especially on the power play.
Let's start with the bad: What is going on with Marty? He doesn't look very confident in goal and I felt last night that he was playing too far back in his net which gave the Thrashers too much of an advantage. In the last three games, Marty has seen 12 pucks get passed him (plus an empty netter he watched from the bench). This isn't the Marty we are used to but judging how he broke his stick against the wall on the way to the locker room after the game last night, Marty isn't happy about it either. Hopefully he straightens this out in a hurry before Syd the Kid comes shooting our way because 6 goals on 17 shots is not acceptable. I have to put this down on paper even though the question in my head feels completely stupid but is Marty feeling some kind of pressure with a completely viable backup sitting on the bench? Or is it more that the defense is so mediocre right now that he is trying to do too much?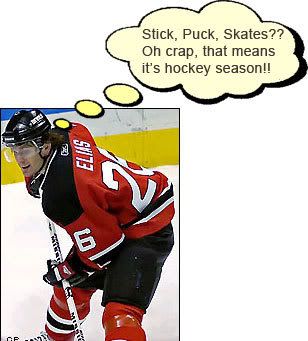 Now the good: Well good morning Mr. Elias, did you just realize that its hockey season and even though there are 82 games, they all count? Glad to see he figured out where the net was tonight but honestly he seemed to be everywhere when the Devils were rolling. The power play was also coming together last night. The Devils cycled the puck extremely well which resulted in a number of shots on goal.
Hopefully this comeback win can build a little confidence in the Devils as the head into a group of Atlantic Division battles starting with Sydney Crosby and the Pittsburgh Penguins. Even if the Devils come out of this road trip with a 3-6 record, I am certainly not about to hit the panic button. There are a lot of new changes on the ice at the moment and I think it is going to take time to come together and really be comfortable out there. I keep reminding myself of the horrible start that was 2005 and how eventually this team came together but putting that aside, hang on because this roller coaster is going to have many ups and downs.