So this is how it stands: one big game left on the record-setting road trip and the Devils are 3-4-1, collecting seven of a possible 16 points thus far, with two more big ones up for grabs Thursday night. If you have anything to do with the Devils — from Lou Lamoriello to the losers who just blog about them (wait…) — you can't be thrilled with those numbers. So much fuss is being made league-wide about the Devils poor play as of late. In a way, it's flattering.
The Devils have long been a team that is synonymous with winning and success. So naturally, when it is discovered that the team is sub-.500 only eight games deep, fans across the league can't help but start gossiping. There have been rumbling tirades that "Brodeur is finally on the decline" and that it's "impossible to replace Scott Gomez and Brian Rafalski," even one absurd comment that "Brodeur is being exposed for the fraud he is – no defensive system = no W's for Marty and the Devils."
Um, is there maybe a slight inkling of a possibility that maybe, just maybe it's nothing more than…a poor start? It's no secret that most hockey fans are quite the apocalyptics (is that even a word?), but this is borderline ludicrous. It really burns my ass that there are people writing this team off as a failure this early in the season. Does anyone realize that the Devils are the only team league-wide yet to play a home game? To be honest, there's much more to laugh about just across the river.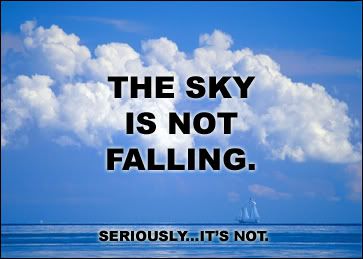 I am in no way making excuses for, or justifying the sub-par record the Devils have established, but I am not maiming this team just yet. The Devils offense has displayed some dangerous talent and a serious will to fight for every single loose puck throughout the course of a game. The defense has made steady progress – keeping in mind they're short one mighty anger-riddled enforcer. Brodeur has not played well, but you cannot expect that to continue. Even during his darkest games this year, he has showed signs of brilliance. A bit confusing, yes, but promising nonetheless.
So take the past and put it behind you. There is one game left on this hellacious trip. Thursday night's contest between the River-rival Rangers will be the biggest game of the young season for Black 'n Red. A win over the hated rivals would breathe a whole new life into the team, as well as give them the opportunity to greet their hometown fans for the first time with a somewhat-respectable record to boot.
I cannot assure you that the team will turn it around and post another 100+ point season, nor can I assure you they will even make the playoffs — but I can tell you this: this is the New Jersey Devils we are talking about. Feel free to write this team off all you'd like, but it would be foolish to make such asinine assumptions.