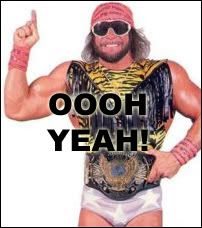 9:21 PM ET: And the game…is…OVER! The numbers: Marty's 94th shutout. Parise's 1st career hat trick. Devils' sixth consecutive win. Devils' 9th consecutive win against the Canadians. The stars of the game, as well they should be: Parise, Brodeur, Gionta. It's nice when everything clicks, isn't it? Goodnight everyone from your friends at 2 Man Advantage!
9:20 PM ET: Devils are still making Price work. Clarkson with a huge blast and Elias with a quick snapshot, both gobbled but by the Habs goalie.
9:17 PM ET: Three-ish minutes remain, score remains 4-0 Devils.
9:12 PM ET: Langs is out of the box it appears. I kind of lost track of the game for a few minutes due to the whole sickness thing. I'm back in action though, I swear!
9:06 PM ET: Langenbrunner to the box for the second time tonight, Canadians back to the PP.
9:02 PM ET: Canadians back to full-strength now.
8:59 PM ET: And Gio now! 4-0 Devils. Devils remain on a power play, this time of the traditional variety, the second half of Latendresse's high sticking. Parise assists Gio's goal, four points on the night for him.
8:57 PM ET: Time remains on the 5-on-3 as well. One of the minors gets taken down.
8:55 PM ET: ZACH PARISE A THIRD TIME! HAT TRICK! Need I say Zach Parise is so awesome? I needn't, but I will. ZACH PARISE IS SO AWESOME.
8:54 PM ET: Madden bleeds too! That's double-double minor penalties! Four minute five-on-three!
8:52 PM ET: Oooooo, Mike Mottau's a team player and bleeds a little bit! Double minor for Latendresse.
8:51 PM ET: Officials miss a high-stick on Madden but see one on Mottau, so the Devils head to the PP nonetheless.
8:47 PM ET: Shot by Markov wide left. Guess you could say he was off the Mark-ov! Hilarious, really.
8:45 PM ET: And the third period is back on. Thanks for the well-wishes, feeling a bit better for now.
8:27 PM ET: Second period over, 2-0 Devils. I'm gonna catch some couch and drink some tea. See everyone in a few.
8:26 PM ET: Game's slowed back down some. My illness bug has also re-asserted itself, which is why I've been quiet over the last few minutes. My apologies.
8:20 PM ET: That's Parise's 11th point in the last 5 1/2 games. Because Parise is awesome.
8:16 PM ET: ZACH PARISE AGAIN! 2-0 Devils as Parise stuffs home a rebound of a Gionta shot on the powerplay. Sweeeeet.
8:15 PM ET: Koivu interferes with Brodeur and gets two minutes of his own. Short 4-on-4, then the Devs hit the PP.
8:13 PM ET: 18 shots on goal for the Canadians, 12 of which on the powerplay. We should probably stop taking penalties, kids.
8:10 PM ET: Jamie Langenbrunner with a pretty obvious trip right in the center ice face-off circle. Montreal back to the power play.
8:08 PM ET: Carey Price likes to roam and twice now tonight that has nearly led to a Devils goal. Roam if you want to, Carey Price. Roam around the world. (With apologies to the B-52s).
8:05 PM ET: Not a whole helluvalot going on right now. Couple shots, couple saves, nothing doing on either end.
8:02 PM ET: The theme of the second period so far is defense. While the first period was free-wheelin' fun hockey, this one so far is serious, studious hockey.
7:59 PM ET: Mottau with a BLAST that nearly re-arranges Gio's face. That would have hurt just a bit if Gio were a few inches to the right.
7:57 PM ET: Game back on.
7:40 PM ET: 1-0 Devils after one. Considering the shot totals were a ridiculous 16-9, I'd say 1-0 is a good result. See y'all in 17.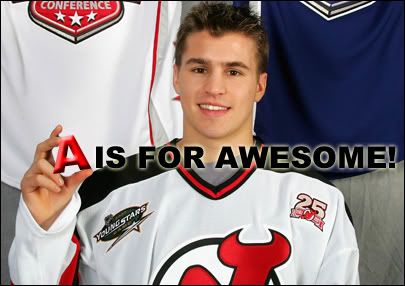 7:38 PM ET: ZACH PARISE! Breakaway, damn he's fast. Five-hole shot, 1-0 Devils, less than a minute to go in the first.
7:35 PM ET: Sigh. Our powerplay didn't look quite a nice as Montreal's. Penalty over.
7:30 PM ET: Very strong shift for Zubrus/Zajac/Langenbrunner. Zubrus with a rocket of a shot off the leg of a Canadian, that had to suck. Pelley gets taken out on the next shift and the Devils go to the PP. Hamrlik to the box for tripping.
7:24 PM ET: Marty is very obviously on fire tonight. Rachunek is out of the box and the Devs even manage a shot on goal!
7:21 PM ET: Rachunek to the box again for tripping Latendresse. I get it, it's the Devils nefarious plan to lower everyone else's power play percentage! Very wiley, Mr. Sutter.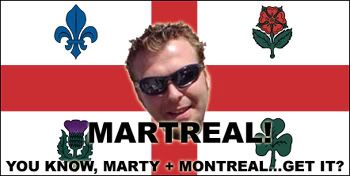 7:16 PM ET: Penalty's over but you wouldn't know it by the way Montreal's kept it in the Devs' zone. Ice is so tilted right now that I can't even tell you who's in net for Montreal, because his name has yet to be mentioned. Edit: Okay, it's Carey Price. But I know that now only 'cause I looked it up.
7:12 PM ET: So the Canadians have the best power play in the league at a shade over 27% efficiency. So the Devils plan to contain Les Habs? Take penalties, of course! Zubrus to the bin for holding the stick.
7:10 PM ET: Lotsa shots getting through but Marty's up to the task. Six shots on goal so far for Montreal. DAMN that was quick. Penalty time over.
7:09 PM ET: Twenty-two seconds in, Karel Rachunek off for a hooking call. Montreal PP.
7:08 PM ET: Game on!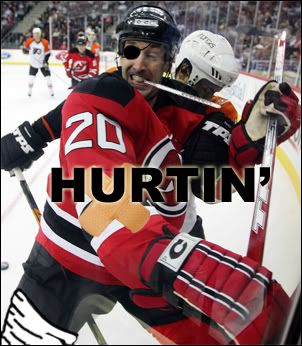 6:59 PM ET: So the big news of the evening is of course Mr. Jay Pandolfo not being in the Devils lineup. Thus ends his ironman streak of 307 consecutive games. Greene and Oduya are back in (good and not-as-good) and Brookbank takes a seat in the press lounge (also good). No word on who'll replace Pando on the checking line but Sarge or Pelley seem logical choices.
6:45 PM ET: Live-cap coming up. Bear with me tonight, I'm ridiculously sick. So, if I happen to suck tonight, blame it on the bug. Yeah. It's nice to have something to blame in the event I'm not entertaining…