9:40 PM ET: Sigh. Rangers with the shootout win, 1-0. 2-1 final, Devils winning streak snapped, but they still come away with a point. Blah. Fantastic game otherwise. I was thoroughly entertained. Not the result I wanted, though. Oh well. It was a fun one, regardless.

SHOOTOUT: RANGERS WIN THE SHOOTOUT 1-0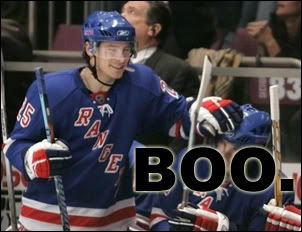 HOSSA NYR: WIDE 0-0
PARISE NJD: NO SHOT 0-0
PRUCHA NYR: SCORES 1-0 NYR
GIONTA NJD: SAVE 1-0 NYR
DAWES NYR: SAVE 1-0 NYR
MADDEN NJD: WIDE 1-0 NYR

9:33 PM ET: Madden wins the faceoff, Greene throws the puck out of the zone. 10 seconds left. Rangers get the puck back in the zone for a final chance, Drury takes a bad angle shot, Brodeur makes the save. Shootout we go!!!

9:32 PM ET: Vishnevski takes a penalty with under 30 seconds left in OT. Instead of turning the puck over right away, the Rangers continue to play…which was, uh, stupid on their part. These last 25 seconds are going to be huge.
Time out, Rangers.

9:31 PM ET: Parise and Zajac had some good puck time in the zone, but both players were covered so tightly by Rangers that nothing could really come of it. One minute left in OT.

9:29 PM ET: Devils have yet to really do anything in this extra period. Come on boys!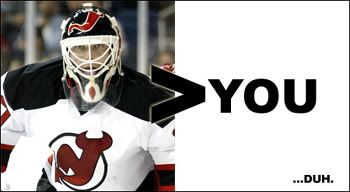 9:27 PM ET: OH!!! MOTTAU TURNS THE PUCK OVER, BRODEUR WITH A HUGE SAVE ON A BREAKAWAY CHANCE BY CHRIS DRURY!!!

9:27 PM ET: Rangers are dominating OT early. MSG is very quiet.

9:26 PM ET: Here we go OT!

9:24 PM ET: To overtime we go! Devils get at least one point. Let's go get the other now!

9:23 PM ET: 30 seconds left. Both teams look tired now.

9:22 PM ET: Avery tries to hop around Martin, who says no deal. Devils are in desperate need of a line change.

9:21 PM ET: Passing has gotten pretty crummy on both teams. The ice looks yucky now. 90 seconds left.

9:18 PM ET: Puck didn't cross the line. About four minutes left. 1-1 still.

9:16 PM ET: %*#()%*()%*#)( WHAT THE HECK JUST HAPPENED [email protected][email protected]! Gionta comes flying in on a partial breakaway, gets the puck knocked off his stick by the trailing Ranger. Lundqvist attempts to clear the puck, but knocks it into Gionta, who tries to bank it home, but is thrown into the net instead. Somehow, the puck doesn't go into the net, as Henrik stretches his leg out last second and makes an unbelievable toe save. After all of this, no penalty is called. They're going upstairs real quick to make sure the puck didn't cross the line.
That was friggen nuts.

9:15 PM ET: Crowd is buzzing after Jagr lays out Brookbank. Sheldon has looked like garbage tonight. Jaromir went a bit high on him though.

9:15 PM ET: Five minutes left in the third. Still tied at one.

9:11 PM ET: Red 'n Back scrambled like whoa to make a line change, ended up being quite the sloppy line change. Sloppy line change resulted in a Paul Mara slapper, which ricocheted off the pads of Mr. Brodeur and out of the zone. Stupid line changes.

9:10 PM ET: I love Oduya tonight. He just threw a nice shoulder into an unsuspecting Ryan Hollweg. This is seriously the best Johnny has looked this season.

9:09 PM ET: Lundqvist with a good save on Clarkson. Both players have played great games for their respective teams.

9:05 PM ET: MSG is the loudest it's been all night with a "Let's Go Rangers!" chant. The arena looks rather empty tonight. If we get crap for our attendance, so should New York. This game should be a sell out, OKAY?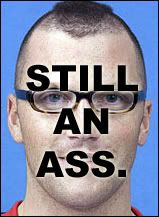 9:04 PM ET: Ouch. Avery shoved Elias to the ice pretty damn hard. I highly doubt Mr. Clarkson will let A-hole Avery get away with that.
JOSH SAYS: Jesus someone take Avery the eff out already!

9:01 PM ET: Sheldon Brookbank is stupid. Brodeur saves the day after Brookbank decides to give the puck to Drury. Whew.

9:01 PM ET: 12 minutes left in the third. Still tied at one.

8:59 PM ET: Well look at Mr. Rupp dispey-doodling his way down the ice. He looked like Sidney Crosby there for a minute.
Bet that's the one and only time that comparison will ever be made.

8:58 PM ET: Ha-ha. Gomez and Avery skate in on a 2-on-1 rush, Gomez slides the puck to Avery, who proceeds to shoot the puck wide. Dummies.

8:56 PM ET: A huge mush of players and such in front of Lundqvist. Zajac gets a great pass to Parise, who tries to hammer it past Henrik. In the process, HE gets hammered into Henrik. Puck doesn't cross the line. Still tied.

8:56 PM ET: Jagr also seems to forget that ice can be slippery at times. He falls over, limps off the ice, but is not injured.

8:55 PM ET: Still a wonderfully physical game. Yay.

8:51 PM ET: Darn, loose puck in between Lundqvist's legs, who couldn't find it. Devils couldn't knock it home though. Gettin' close!

8:50 PM ET: Third period here we go!
JOE REPORTS IN FROM MSG: I'm giving the advantage to the Rangers in that period. They established momentum early and poured it on during the PPs. Devils looked uncoordinated at times.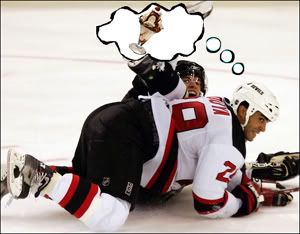 8:33 PM ET: Elias comes close to putting the biscuit in the back of the net. Period over. 1-1 after two. Oduya didn't look too bad. He's allowed to have ice cream.

8:31 PM ET: Hee-hee, Lundqvist pulls a Cechmanek by head butting a puck out of harm's way. I love it.

8:30 PM ET: Marty has looked great tonight.

8:26 PM ET: FIGHT!
Rupp vs. Orr. Rupp is getting some good shots in. Orr is throwing some rabbit punches. Both helmets get popped. Rupp gets tripped up, hits the ground. Fight over.
EDGE: RUPP


8:24 PM ET: Hearts for Vishnevski! He threw a solid body check into none other than Poo-mez. YES! THAT'S WHAT YOU GET FOR SKATING WITH YOUR HEAD DOWN, DUMB BUTT!

8:22 PM ET: Okay, we're starting to scramble a bit. Let's calm down, fellas.

8:20 PM ET: I want this power play to be over. Rangers have basically spent the entire time in the zone. At one point Marty even thought the puck went behind him. UGH.

8:19 PM ET: I really do see shades of 2000 Madden with his aggressive penalty killing. He wants another shorty.

8:17 PM ET: Wow, what a gigantic dive by Prucha.

8:15 PM ET: …and as quickly as we go even, we go back on the penalty kill. No ice cream for you, Oduya.

8:15 PM ET: Very good kill by the boys. Back to even strength. Woo.

8:14 PM ET: Bit of back and forth hockey right now.

JOE REPORTS IN FROM MSG: Money save by Henrik. Devils forecheck is very impressive, Rangers having a lot of trouble getting out of their own end. I fear the Rangers could steal the momentum on this PP.

8:13 PM ET: Gionta is the lad to sit in the sin bin for taking down Shany-hany. Rangers PP.

8:11 PM ET: How the heck did the puck NOT go in?! Pops over Henrik's head, somehow swats it away before it could fall into the net. Someone on the Devils then takes a penalty. Good job, boys. Red 'n Black had just gained some huge momentum, just to be thrown down the pooper. BUTT.

8:10 PM ET: Devils caught the Rangers in a bad line change, skate in on a 2-on-1. Rupp throws the puck at Lundqvist, who was able to block it aside.

8:08 PM ET: Never mind. He's been found.

8:07 PM ET: Vishnevski is apparently nowhere to be found. Uh ohs.

8:05 PM ET: I officially summon David Clarkson to kick A-hole Avery's ass.

8:03 PM ET: Holy gigantic hits Batman! Prucha launched himself into Mottau, and then Avery threw his knee into Oduya. Hard hits, ladies and gents. Very hard hits.

8:03 PM ET: Power play over. Another empty one. 0-3 now.

8:02 PM ET: Man, Elias absolutely RIPPED a slapper from the point. He wants a goal. Totally.

8:01 PM ET: Apparently Scott Gomez took a hooking penalty at the end of the first period. We were too busy with pizza to even notice.

8:00 PM ET: Ready for more?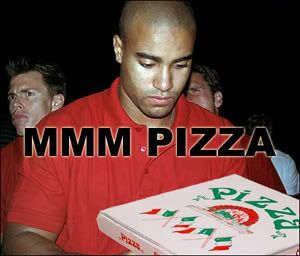 7:42 PM ET: Period over. Very even period. Nine shots each, one goal each. Lots of hits each. I had fun. Did you have fun? Let's take a pizza break and come back for more in another 15.
Johnny Oduya is allowed to have a slice. If he continues to play well, he'll get a bowl of ice cream after the second. EARN YOUR FOOD, JOHNNY!
JOSH SAYS (ON ODUYA BEING INTERVIEWED DURING INTERMISSION): Johnny's gotta be pissing his pants that someone wants to talk to him about a good play.

7:41 PM ET: Okay, uh, let's just get of this period alive, boys.
Hmm…Hossa interferes with Marty, gets sent off for two. Officials decided to give Marty a dive too. Wouldn't he, uh, actually have to dive to get a dive? He didn't even hit the ice. Lame call.

7:39 PM ET: Quite the valiant effort by Zubbie to beat out the icing call. Sadly, he couldn't quite get there in time. I think the Devils are ready for this period to be over.

7:38 PM ET: The Rangers are really crashing Marty tonight. Come on boys, you can't let this happen. OKAY???

JOSH SAYS: Our organ version of Hey Ya is better than MSG's.

7:36 PM ET: Huge save by Marty on Tyutin! Dubinsky then proceeds to fly into the net, knocking it off. Skates are a tricky thing, huh?

7:35 PM ET: This pee-pee hasn't looked nearly as pretty as the last one. Boo. Devils can't get anything going. Man advantage over. Butt.

7:33 PM ET: I'm starting to sniff at an Elias goal. He's playing very well. Don't hate me if he doesn't score. I'm only sniffin', not smellin'. Quite a difference, mmkay?

7:32 PM ET: A-hole Avery to the box, actually BROKE his stick chopping Parise's stick. Did I mention he's an a-hole? Devils pee-pee.


JOE REPORTS IN FROM MSG: MSG is QUIET! Brylin took everyone right off their Gomez high.

7:29 PM ET: Clarkson just went flying. Ice is slippery.

7:29 PM ET: Wow, I missed the initial play of Hollweg's penalty. He's a dirty mo'fo.

7:27 PM ET: The power play has looked great. I love that the boys are actually crashing the net and sniffing for rebounds. Haven't seen that in a while. Elias took a nice slapper from the blue line, about three Devils scrambled for the rebound but Lundqvist was able to hold his ground. Pee-pee over, Red 'n Black go empty.

7:26 PM ET: Ha-ha. Hollweg in the sin been for kneeing. Devils pee-pee.

JOE REPORTS IN FROM MSG: After the Gomez goal, Rangers fans were actually taunting Marty. Unreal.

7:23 PM ET: Paul Martin is not very pleased. Ryan Hollweg hit him hard. It looked painful. Stoppage of play. Mini-scrum. Get used to this, folks. It's going to be quite the entertaining night of hits, scrums, and fights. Oh my!

7:22 PM ET: Boy, Avery is a marked man. Brylin just gave a relatively heavy crunch to the A-hole. I LOVE IT.

7:22 PM ET: I enjoy Vitaly Vishnevki. He hits a lot.

7:21 PM ET: I want more hits.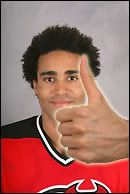 7:15 PM ET: HOLLER! Lundqvist takes a stick to the helmet, thrown a bit off balance. Johnny Oduya flies around the net, throws a nice pass to the oh-so-patiently waiting Sergei Brylin, who oh-so-awesomely ties the game. We're only, like, 30 seconds or so past Poo-mez' goal and we're tied at one again. Yay.
On that note: Holy guacamole Mr. Oduya! KEEP DOING THAT AND WE MIGHT GIVE YOU PIZZA AFTER ALL!

7:14 PM ET: Oh crap. Prucha completely made Parise cry by skating circles around him, gets the puck to Poo-mez, who fires it past Marty. Last thing I wanted to see. 1-0 Rangers.

7:13 PM ET: Feisty game. I love it.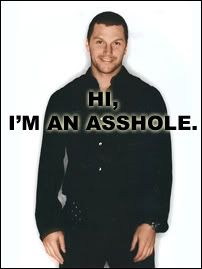 7:11 PM ET: Sean Avery is going to take it up the butt all game long, I fear. Elias gave him a decent bump. I'm excited.

7:11 PM ET: It's quiet in the Garden.

7:09 PM ET: Marty is in the game. Makes a save on a Shanahan wrister. Nothing spectacular. Better than giving up a goal, though. Yeah.

7:08 PM ET: Game on! Vishnevski just wrecked Betts! HOCKEY!!!

7:06 PM ET: Welp, Olli Malmivaara is the defender to sit tonight. Good, I'd hate having to type that more than once.

6:59 PM ET: Just minutes away!

6:35 PM ET: Still got a little bit before the game starts, but what can I say? I have ants in the pants.
Maybe I should see a doctor…
Alas, as everyone is undoubtedly already aware, Mr. Michael Rupp will be making a return to the lineup tonight. A defenseman will sit. Which one? Stay tuned, Coach Sutter has proclaimed it'll be a game time decision.