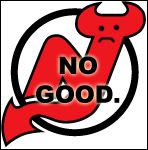 My apologies to those who swung by 2MA land looking for a livecap of tonight's game. But after hearing the final score (5-0 Penguins), do you really want to know the messy details?
I didn't think so.
It's been a long time since the team played so badly that I could honestly say I was embarrassed to be a Devils fan, but this game did it. There is no other way to put tonight's loss – it was just plain EMBARRASSING. Eight shots in the last two periods? Four goals in the last three games, and one in the last two? Waiving Richard Matvichuk and playing Sheldon Brookbank? Clearly this is a team in disarray.
I've always been confident that this Devils team will always be good. I'm not nearly as confident right now. I want to believe this team can get better, but the defense quite frankly sucks. When your second defensive pairing is Oduya and Mottau, there's a problem. The offense will come around – we've seen flashes of it in the 6-5 Atlanta game and the Halloween 6-1 drubbing of Tampa – but the defense, as currently constituted, simply cannot get the job done.
There's one other thing about this team that scares me. This Devils team has no heart. None. They are an engine without a sparkplug. Whether you like him or not (and I'm assuming 99.9% of those reading are of the latter), Sean Avery makes the Rangers better by…well, by being Sean Avery. We don't have that. We have a team comprised of some big guys who can hit but not often enough, guys who can fight but not well enough, and guys who can inspire but do nothing inspiring enough.
So what to do? Well, I don't have that answer. But leaving tonight's game, I saw a man who should. Y'see, to avoid the crush of dejected Devils fans heading down the escalator, I took the stairs. As we hit the Suite Level 1 area, who should burst through the doors along with a small posse of men in suits but Mr. Lou himself. He didn't look too happy, to say the very least.
It's funny, but seeing Lou visibly annoyed made me calmer. I believe Lou will make everything all right. I believe that this team will ultimately pull together, or will get the parts needed to not suck anymore. Or at least the Kool-Aid tells me so.
So while I down another pitcher of water and artificial sweeteners, I have only one request of the Devils: Stop sucking. Please.
PATRICIA SAYS: Hey guys, sorry for no live-cap last night. I was severely under the weather, I didn't even catch the game myself…which, apparently, was a good thing. We'll be back for live-cap goodness on Thursday!