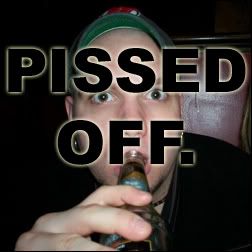 After blowing lavish amounts of money to watch some of the greatest suck-fests in recent Devils history, I just can't stand to watch the team I adore so much continue to put forth such piss-poor efforts. Players stuck in slumps that have carried over from last year, an inability to develop chemistry, and a no-excuse lack of effort have me feeling such a strange combination of blind rage and indigestion.
I cannot, for the life of me, figure out what compels this team to just flat out eat it seemingly every night. What happened to the Devils that struck fear in the eyes of the whole league? Don't gimme that Rafalski/Gomez crock pot. I mean, the talent is there, it's just not clicking or being used anywhere near its potential. As true as it may be that the team is not even close to giving 100% 75% 50% every night, it could have a little something to do with a certain head coach shuffling up the lines every odd-numbered shift. It seems that if the boys go consecutive shifts without scoring a goal (God forbid!!) Brent is going to mix things up worse than an inebriated dyslexic with a speech impediment — and the result has the players looking like so.
Here's a dream of mine come true:
ME: (to Brent Sutter after 2-1 loss to Islanders) Hey, Brent – you do know it takes chemistry to win hockey games, correct?
BRENT: Well of course I do, I'm a two-time Stanley Cup champion and I've been coaching juniors for years.
ME: Ok, so… STOP ____ING WITH THE LINES!!
BRENT: It's Elias' fault.
…speaking of overpaid and underachieving "all-stars" — Patrik Elias, what in green hell is your problem? You have had your head so far up your hep-free ass this year, you're turning into the NHL equivalent of Adrian Foster. Brother, you seriously need to up your game, spend a month or two at hockey-schwitz , or just dye your hair a different color — this under-producing madness needs to stop. You've gone from single-handedly dismantling the New York Rangers playoff run not even 2 years prior, to making Keith Tkachuk seem like a reasonable trade option.
As a fan, there is nothing harder to swallow (my cooking aside) than having to watch your team not even come out of the locker room for a game. Much to the dismay of the Black 'n Red faithful, that's become a nightly chore. It's one thing to have to deal with a team that just flat-out doesn't have the talent or the needed resources to win hockey games and be successful.
But when your roster boasts names like Patrik Elias, Brian Gionta, Travis Zajac, Zach Parise, and Dainius Zubrus – throw a name like MARTIN BRODEUR into that mix and there is no reason why the New Jersey Devils should be sitting laying, bleeding at 6-8-2, good for dead last in the Atlantic Division.
The Devils have picked a horrible time to continue their woes as they are doing nothing but burying themselves early on by continually failing to even show up for games against Atlantic Division rivals. I guess winning really does get old, eh guys?
Something needs to be done to turn this season around. Points in November are just as important as those in April, but that memo must've hit the Junk Mail folder of the Devils collective mailbox.