Who is John Zdunkiewicz, you ask? Believe it or not, Mr. Zdunkiewicz (oh that's brutal on the typing fingers) plays an integral part in the New Jersey Devils organization. Now, follow me and we'll take a peak into the life of this up-and-coming goaltender…

2 MAN ADVANTAGE: Hey there, John. Let's get this going. Tell us about yourself. You know, the basics: where you're from, what you do, how you got into hockey, all that jazz.
JOHN ZDUNKIEWICZ: I am the emergency backup goaltender for the Trenton Devils. I am 25 years old and have been playing hockey since I was three years old. I grew up in Philly and moved out to Levittown when I was nine. Currently, I coach goalies all over Pennsylvania and New Jersey and referee ice hockey games to make a living. I am also engaged to the most beautiful woman I've known for about eight years.
2MA: Fantastic! How did you meet your fiancee?
JOHN: I met her at a rink when I coached her team, well, the goalies. That's right, she plays hockey as well! I proposed to her on the ice on New Years Eve last year in a pick up game I set up with friends and family.
2MA: Cue chorus of "awws!"
2MA: Let's talk about the T-Devils. How did your stint with the team come about?
JOHN: I get called up on a need basis. I am still a part of the team; however, I am only needed when the T-Devils are down to one goalie. When someone gets hurt and goalies are being moved around, Coach Vince Williams gives me a call and I drop everything and head to the Sovereign Bank Arena.
2MA: Have you gotten any playing time yet?
JOHN: I have been on the ice numerous times, but haven't been in a game yet. Maybe one day!
2MA: So, how has this experience been so far? What do your family and friends think of the whole thing?
JOHN: My family is thrilled to finally see me part of a pro team. My goalies that I coach come to the games and have me sign stuff for them, they are thrilled as well.
2MA: What does the future of John Zdunkiewicz look like?
JOHN: Hopefully the future is bright! If I continue to play hockey the way I know how to, I will do just fine. I have a foot in the door and sometimes that's all that's needed, but I will continue to work my butt off harder than anyone out there in hope to get called up full time.
2MA: That's the spirit! Clearly, hockey plays a huge role in your life, but what else are you interested in?
JOHN: There's not much outside of hockey. My fiancee works for the Ed Snider Youth Foundation, which brings hockey to kids in Philadelphia that cannot afford it. So even her life is all about hockey! Both our fathers play pick up hockey, her sister plays ice hockey for Neumann College as well. Hockey is our lives and I wouldn't change a thing!
2MA: That's truly awesome, John. Okay, I know you've been probably waiting for this question all night, so let's finally get it out of the way. The million dollar question: which NHL team do you root for?
JOHN: This is where I get booed…
2MA: Remember, John, we will poke you in the eye if you give the wrong answer!
JOHN: …well, being born and raised in Philly, of course I root for the Flyers!
2MA: Drats.
JOHN: But, I always root for goalies when I'm watching. I love the position so much. Where I'm from, I cannot like the Devils or Rangers, but Marty Brodeur is amazing! His style of play amazes me every time I watch him. If the Devils are playing someone other than the Flyers I'm finding myself more and more into the games now.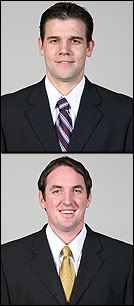 2MA: Okay, you've redeemed yourself John. Good boy. Well, I would like to thank you for taking some time out and chatting with us. The 2MA Crew wishes nothing but the best for you, and you better believe we'll be rooting our respective asses off for you when you do get into a Trenton Devils game!
Any last words?
JOHN: I would like to thank Rick Kowalsky and Vince Williams for the opportunities they've given me and for the ones in the future. I will always work my hardest to prove my best. Thank you Patricia for this interview.
2MA: Thank YOU John!
FOR MORE INFORMATION ON THE ED SNIDER YOUTH HOCKEY FOUNDATION, PLEASE CHECK OUT WWW.ESYHF.COM