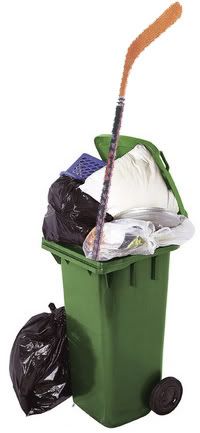 Another game against a New York team, another loss against a New York team.
This is getting real old, real fast.
Out of twenty possible points against teams from New York, the Devils have attained three. And no, Buffalo doesn't count – they're practically Canada.
I don't know what the deal is, but I'm really sick of it. There's no excuse for being a 23 loss team with 10 of those losses coming against two of your biggest rivals.
It's great that the Red 'n Black are still ahead of both the Rangers and the Islanders in the standings, but with the division as tight as it is, these are points that can't be left on the table like this. These points will have a major effect on playoff positioning – or even whether we MAKE the playoffs or not.
For example, take five points from the Rangers (half of what they've earned from the Devs) and four from the Islanders and put them in the Devils point total and suddenly we're tied with Ottawa for the conference lead. Instead, the boys are free-fallin' (there's a Tom Petty special on TV as I write this) and currently sit tied for sixth.
It's time to pick it up against the local teams. It's all well and good that the boys completely own the Flyers, but we've only got two games left against the boys from Philly. Time to pick it up against the other locals. There's too much at stake.
Like the Metro-Ice Challenge, presented by Hummer.
I mean, uh…a playoff berth. Yeah. That's probably pretty important too.