Okay, so, uhm, I don't like Brian Gionta anymore.
Granted, he actually had a relatively decent game for the first time in, oh I don't know, maybe 12 years, but what the crap was that garbage he pulled in the shootout?
Skates in. Takes a wrister from far out. Right into the pads. Game over. Devils lose.
Well, Brian, that was certainly a brilliant attempt on your end.
Really.
And when I say really, I actually mean that you are a waste of space on this team and I do not like you anymore.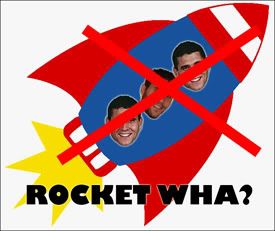 Yeah, it's a tad extreme on my end, but I'm sorry — I can't take this garbage from the supposed Rochester Rocket no mo'.
If you ask me, the rocket may have turned out to be a dud.
Come on. I know we all tend to be "what have you done for me lately" types of fans, but the question really does beg to be asked here: what has Gionta done for Red 'n Black lately?
While he certainly played hard tonight, his effort has been entirely inconsistent lately. This saddens me. Saddens me greatly, in fact. When's the last time Gionta has bullied a seven-foot-tall defender out of his way while cementing himself in front of the net? No clue. When's the last time he crashed the corners and actually didn't get beat on the boards? No clue. Or, when's the last time he made a dandy of a pass instead of taking a weak wrist shot himself, resulting in an easy save for the opposing netminder? Okay, so he did do that one tonight at least, but, well, he's not doing it nearly enough. And this, my friends, frustrates the poop out of me.
Let's look at the stats here. Mr. Gionta has so far tallied 13 goals and 22 assists for 35 points — one of those helpers coming tonight on Karel Rachunek's dandy lil' goal. In his last 10 games, though, the two-foot-tall winger has a total of four points. Oh, and those four points are all assists.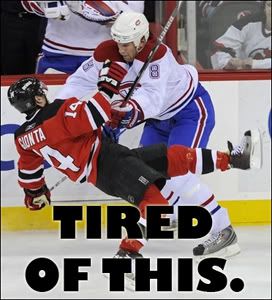 When did he score his last goal? Good question, I say. Look all the way back to January 10th. Yeah. That's almost a month ago.
That's yucky.
I know, I know: this team isn't exactly known for its amazing ability to score 9000 goals in a game (hey, we're no Detroit), but something's gotta give here. Patty The Former Cappy has really stepped up as of late, and though Zach "I'm Awesome" Parise had been struggling a bit, he seems to be cracking his pesky slump. Okay. Not bad. But Gionta?
He ain't done squat.
So, what's the answer?
I say, trade the bugger. He has value, that's fo' sho', and it's entirely possible that Black 'n Red can get a nice puck-moving defender out of the deal, or maybe even a forward whose efforts will actually translate into goals. Who could we get? Oh, I don't know. But we sure need someone, and I fear that someone is not Brian Gionta.
Ya feel me on that one?