So, um, I'm a little annoyed. Not because the Devils are losing.
Alright, that's a lie. It is because they're losing, but more so how they are, and have been, doing it all year long.
See, the Devils have been somewhat of an anomaly this season. If they're not too busy finding ways to beef up the shutout stat for the opposing goaltender, they're keeping themselves occupied by skyrocketing his GAA. It's a bi-polars dream come true. It's become borderline unhealthy watching this team pick a wild-card and play it every night. What will it be? A shutout or a blowout? Well, I'm not entertained.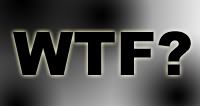 So, since we're on a losing streak, and I'm a pessimist, I present to you: 10 Reasons The Devils Have Me Pulling Out My Facial Hair. Excited? Me either.
**Author's Note: Yes, I am aware the team is (almost) leading the Eastern Conference.
10. Vitaly Vishnevski. When he plays, Vish averages about 15 minutes of ice time per game, and is brandished with an ugly -8 in the +/- column. Unfortunately, it's not without merit. Vitaly can often be found with a dumbfounded look on his face and is almost always caught out of position. His physical play has left much to be desired in his own end. I'll be patient with him but the fact that he seems to have lost his spot to newly-acquired Bryce Salvador doesn't have me holding my breath. The shame is that I had high hopes for this guy.
9. The Money It Cost Me To Watch Donald Brashear Score On Martin Brodeur. Okay, the tickets were free. But the beer wasn't. Nor were the Nachos. And suddenly, with one flick of his 27-inch wrist, Donald Brashear made me relive both of them. It's games like the most recent fare against Washington that absolutely crush my optimism on a deep playoff run. A note to Mr. Huet: they won't all be that easy.
8. The Sutter-Shuffle. No, it's not the latest ballroom dance. It's been an ongoing problem since day one. The fly-by-night approach to setting a starting lineup that Brent Sutter seems to have been taking. A word of advice: it takes time for chemistry to develop. Patience is a virtue. His most recent yahtzee has even his own players scratching their heads.
7. The Inability to Defeat New York. If you look at the division standings, you could make a viable argument that the Ranger/Islander crisis is nothing more than two tears in a bucket. Well, say that bucket was overflowing to begin with. Think about it — with the Devils and Pittsburgh caught in a dogfight for the Atlantic, a few W's here and there over New York wouldn't be a bad thing. If the Devils had even split each series with the Islanders and Rangers, it's possible that they could be on their way to running away with another division title. Instead, it's going to be one of those so-and-so-has-to-beat-so-and-so endings to the season. And this time, it looks like Montreal has our number.
6. Martin Brodeur Starting Despite Being A Double-Amputee. Okay, anyone with eyes can see that Brodeur, in fact, is not an amputee of any sort. However, it seems that he'd be the starting goaltender even if he was. Why exactly was Kevin Weeks signed, again? I don't care what kind of work ethic the guy has. A day off never killed anyone, and even the best goaltender in the world could use one every now and then, whether he likes it or not. I see no reason why Mr. Weekes shouldn't get any action this week with two games in Toronto and one against Tampa.
5. The Trade Deadline. Before you flood me with hate-mail, understand this: I am not one to condone making a trade just for the sake of doing so. But in the case of the New Jersey Devils, something, anything, seemed necessary to bolster the offense. What happened? Nothing. Well, Lou, with only four goals in their last four games, it looks like the boys are trying to tell you something. Hossa might not have been the answer, but there were other moves that could've been blueprinted. Finally, a chance to fix something that's actually broken, and the window of opportunity comes crashing down on your fingers. No fun for anyone involved.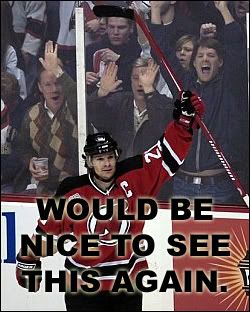 4. Patrik Elias, Brian Gionta, Dainius Zu The Offense. Um, is there really a need for me to elaborate on this topic? What's the old adage? Your scorers have got to be your scorers? Yeah, something about being shutout eight times this season isn't exactly sitting well with that Pastrami on Rye I had for lunch. I've grown a little tired of watching Black 'n Red out-shoot the opposition 6,927-12, and lose 2-1. But then again, I'm nitpicking. With the "new, aggressive style" the team has been playing, this ongoing problem continues to baffle and aggravate me to no end. Put the $#%!-ing puck in the net.
3, 2, & 1. the power play, The Power Play, THE POWER PLAY. Have you ever seen an NHL team that can kill off their own power plays?? Meet the New Jersey Devils. Noting that the Devils PP sits at 22nd of 30 teams gives the unit an undeserved sense of accomplishment. The Devils have been dreadful with the man-advantage this year (and in recent years) and I think you'll be hard pressed to find a bigger reason for some heartbreaking losses this year. Unless this issue is resolved FAST, the Devils will be golfing when they should be checking into hotels to begin a playoff series. If there was an option to decline a penalty in the NHL, the Devils would be a better team.
Well, there you have it. Keep the hate-mail PG-13, will ya?