I love Montreal. Everything about it. Really, I do. I love the city so much that I have decided to make it my home next year. Don't worry though, no matter where I may roam, my heart will always bleed Devils' black 'n red. That's for sure.
Alas, I spent the past few days in wonderful Canadian city with my brother Stephen and our friend Ty. We enjoyed great hockey, tasty beer, and wonderful conversation with some amazing locals.
The journey begins…


CLICK MORE TO READ THE JOURNEY!!!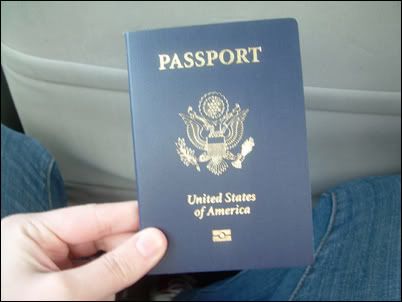 Ah, the golden ticket. Won't get very far without one of these.
And of course…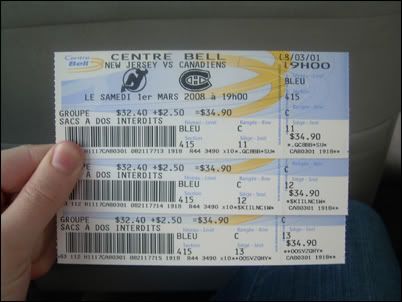 …these.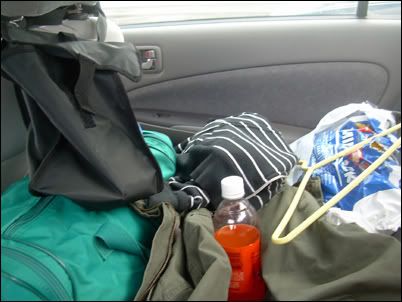 Believe it or not, I am actually buried somewhere in that massive pile of clothes, food, and bags. The orange soda was quite enjoyable though. I'm not entirely sure why the clothes hanger is there, but, uh, let's just pretend like it played some sort of important role in the road trip, mmkay? Good.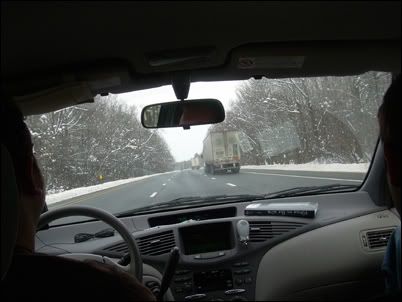 The next seven hours looked like this. Need I say more?
Okay, so we roll into Montreal around 3:30 PM. Fantastic. We struggle a bit to find the hotel, a fancy lil' place called Le Cantlie Suites. After seemingly driving aimlessly around the city for a good half hour, we finally discover our destination. Check in, grab our bags, and we ride the elevator to the 16th floor where our humble abode awaits. The room is all right. Nothing special, really. The television is small, only one bed, and one of the lights is missing a light bulb. Standard hotel stuff, basically. We take a moment to reflect on the seven hour drive, which by the way, does not include the extra hour spent at the border, where we were thoroughly searched and nearly turned away by two men who could be aptly described as the Canadian version of Dumb and Dumber. Clearly, we are terrorists.Alas, after our moment, we throw on our jerseys and hop back in the elevator for the decline into the hotel lobby. Bundling up with jackets, gloves, and hats, we brave the Canadian winter and walk to the Bell Centre for the game.
While battling the unplowed sidewalks and slippery roads, I bump into Ken Daneyko, smoking a cigar on the ledge outside of his hotel. I wave hello to him. He waves back. We continue on our way.
Hunger sets in during our voyage. We collectively decide to stop at a fast food restaurant rather than spend all of our precious Canadian money on $20 hot dogs at the arena. A local suggests a little joint called St. Huberts. We oblige.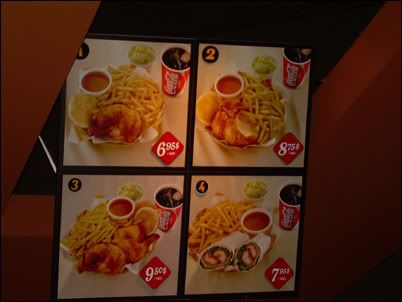 Choices, choices! I get a chicken sandwich, not displayed. Stephen and Ty both get number ones. How original. We receive our food but there's nowhere to sit, as this is a walk-in restaurant. No chairs, no tables. Dilemma!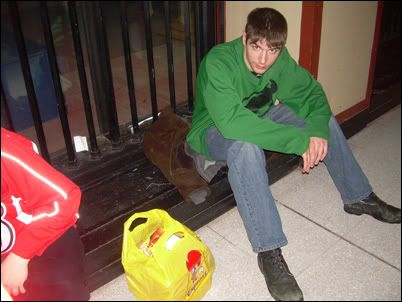 After walking around for a solid minute or two, we decide to go inside the metro entrance, sit on the floor, and prepare to enjoy our delightful chicken meals…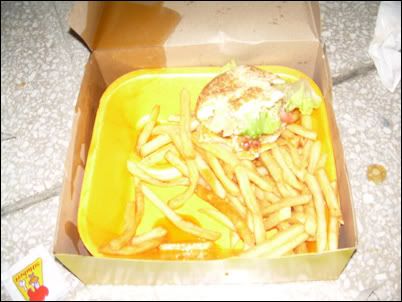 …which, after closer inspection, were not all that delightful.
We finish our meals and make our way into the arena. As we find our way to the seats, our stomaches simultaneously ache. The "chicken" feels like a brick in the pit of my poor stomach. Digesting this stuff will be quite a difficult task.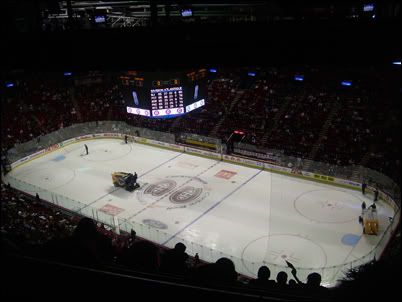 The view from our seats. Not too bad. We are in the absolute top of the corner at the Bell Centre, but the sight lines are good.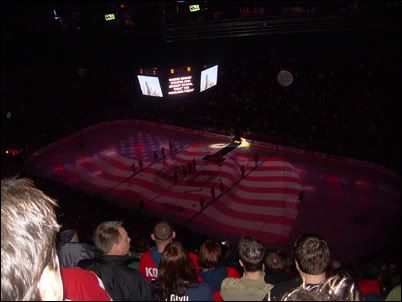 The Canadian and American national anthems are played. There is nothing quite like hearing the Canadian anthem being sung by thousands of hockey lovin', Bettman hatin', Molson drunken' fans. It sends chills down my spine.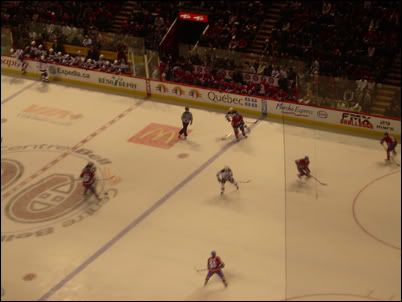 The game. We all know how this one unfolds. The loss saddens me, but the game itself brings no tears to these eyes. I was thoroughly entertained. Though it's entirely possible that outside factors played a large role in my enjoyment.
You know…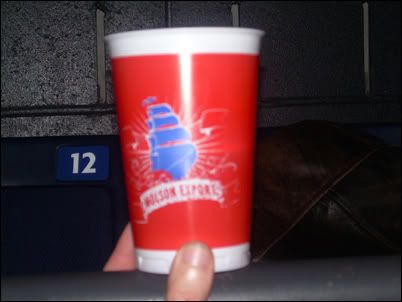 this, and…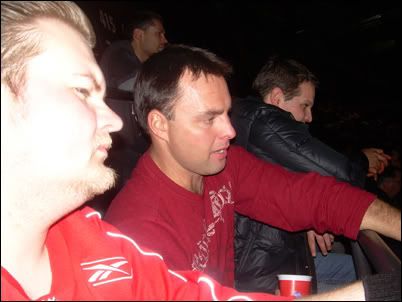 …this.
Meet Stefan, the man in red on the right side of the picture. He is a French Canadian lad, in town to watch the game with his fellow French Canadian buddies. They hail from Quebec City and they play pick up hockey. They like to drink beer. Oh, and they're massively drunk the entire night. Stefan spends the entire night attempting conversation with Stephen. Notice the annoyed look on Stephen's face.

Stefan and I enjoyed a Kodak moment during one of the stoppages of play. His eyes are glassy, his speech amazingly impaired, though it could be his poor English that makes him difficult to understand. Regardless, we decided it was best to just smile and nod whenever Stefan began to ramble on about, well, whatever the heck he was rambling on about. We have no idea what he was saying, to be honest.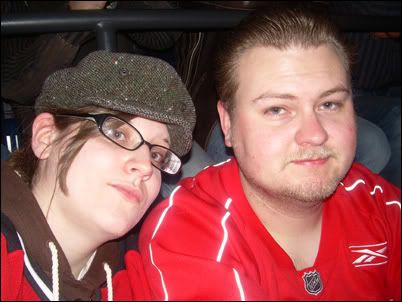 Aw, quality sibling bonding time! How precious!
So, the game ends, the Devils lose 2-1. We bid farewell to Stefan and his pack of drunken friends and we trek back to the hotel. Completely wiped from the day's events, we all fall asleep effortlessly. Stephen and Ty share a bed as I sleep on an adjacent sofa. You know, 'cause THAT seems totally fair and all.
The journey continues…
The alarm goes off at nine o'clock in the morning. Ty decides to stay in bed longer while Stephen and I head down to breakfast. We load up on coffee, eggs, and bacon. The eggs were gross. Of course, we still ate them. After having our fill of hotel food, we swipe an apple and a couple individual-sized boxes of cereal to bring upstairs for Ty. We are great friends, aren't we?
After Ty downs his Frosted Flakes, Corn Pops, and green apple, we pack up and check out of the hotel. It's still very early. We drive around Montreal for a bit, eventually parking on Rue Peel, a small street that intersects Rue St. Catherine. The next seven hours would be spent on this very street.

Ah, here is a visual display of me walking on Rue St. Catherine. How fantastic!

Oh, and another! Here are the boys, unknown to them that I am photographing their backs. It'll be our little secret.
Around noon, we stop at a pub for lunch. Of course, beer is involved.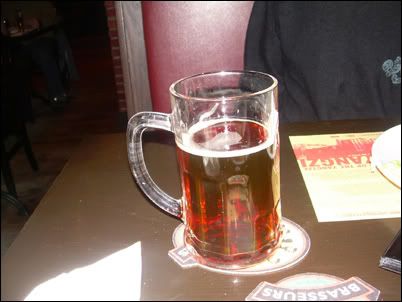 Tasty, eh?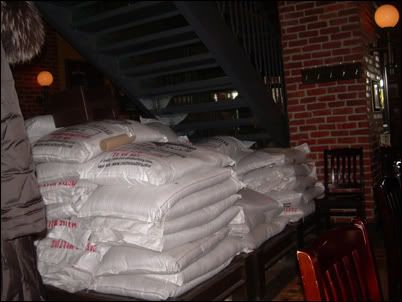 Oh, even better! Look at all those hops! You know how much beer can be made from all of that? My mouth salivates merely at the thought of it.
We continue to walk up and down St. Catherine's, stopping in various smoke and clothing shops. Ty finds a shop with a brilliant sword and knife window display. His eyes light up in pure jubilation, ripping the shop door open to find a candy store inside. He is thoroughly disappointed.Around three o'clock, we move the car from Rue Peel to a side street close to Le National venue, where later we will attend a Henry Rollins show. Apparently, this stretch of St. Catherine also doubles as the gay strip. Montreal is known for its gay culture, actually, so I was already aware of this section of the city. Ty and Stephen, however, were not.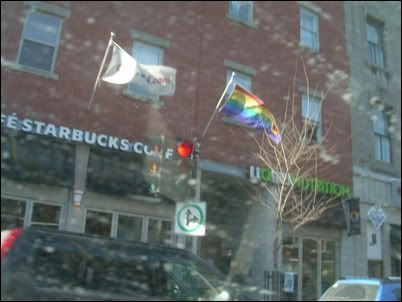 Flags everywhere!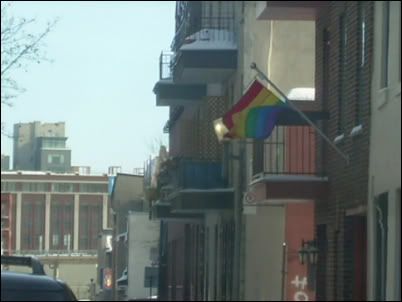 It's a nice display, really.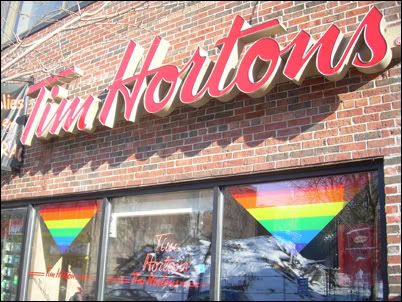 Even the Tim Hortons has pride! We stopped at this particular Tim Hortons about four times. The coffee was good (and warm!), and I will admit, we were kind of hoping to win the motor boat in the "roll up the rim to win" contest. Alas, no motor boats for us.
Slowly but surely, seven o'clock finally rolls around and it is time for the Henry Rollins show! We grab a couple beers, take our seats, and enjoy the ranting and raving from Mr. Rollins. I was only able to get off one picture before being yelled at by venue security. Apparently, no photography of any kind is allowed in Le National. Lame. I didn't even have a flash on.

See? The picture didn't turn out all that well. Rollins looks like he's massively albino. Or, like he's a ghost. Oh well.
Rollins talks for a solid three hours. It felt more like five. He was awesome, sure, but he did ramble. I will let it slide though. Henry Rollins is basically God, so he's allowed to ramble.It is 11 PM now. We head back to the side street to find our car missing. After many phone calls and conversations with uncooperative police officers, we find that the car has been towed to a different street so the trucks could plow this particular street. Sounds confusing? Well, it pretty much is. Another hour passes, we get our car back, and we finally begin our journey back home.

This is me after a seven hour car ride. It is now 7 AM. I am absolutely wiped.
The journey ends…
We drop Ty off first at is apartment. Before he can even wave goodbye, we are already halfway down the street. True story. I am dropped off next, and Stephen makes his way back to the condo, which unfortunately for him, is another 45 minutes away. Poor kid.I rip my clothes off and throw on a t-shirt and pajama pants. I curl into my warm bed and close my eyes. Before I fall asleep, I think of Stephen and Ty, realizing that they both have to work full eight hour days today while I get to sleep on my day off. I feel bad, but I am too tired to think any more of it. I fall fast asleep with visions of hockey players and Molson beer bottles dancing in my head.

Oh, what an image!