Clearly, I need not remind you that updates around here have been few and far between this off-season. So given the fact that I am suffering from a writer's block that could easily be mistaken for the after-effects of a lobotomy, you could imagine how I reacted when I read this.
It was too good to be true… just the thing I needed to get myself going!
But where oh where do I begin?? Maybe I should compliment the author on his prodigious use of the English language and befitting grammar. Perhaps I could chalk his argument up to the rose-tinted glasses he so blatantly dons. Tempting? Yes. However, doing so is far too pellucid. That being the case, allow me to generalize my rebuttal: Michael M. Ramos, you are a cretin.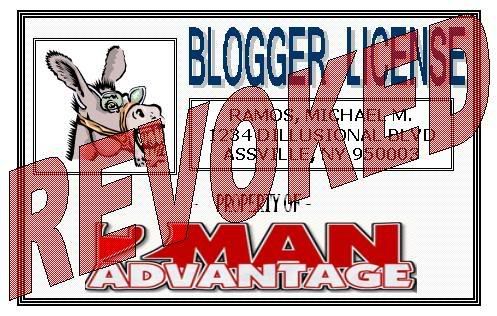 I should have halted my eyes when I realized that the opening argument against New Jersey was the ol' "Mickey Mouse" comment. (Although I can't blame the poor chap, it was either that or the infamous attendance crack…). Granted that 1983-84 season was dismal… but since tallying 7 Division Titles, 4 Conference Championships, 3 Stanley Cups, and a four-year winning streak over the New York Rangers, I think it's time to put that comment to bed, eh? If those credentials make the Devils a "Mickey Mouse" franchise, then the New York Rangers should be branded as the NHL equivalent of John Holmes with Erectile Dysfunction — nothing more than a marquee name that can't live up to the glitz and glamor.
As if citing a 25-year-old Wayne Gretzky faux-pas wasn't bad enough, now we have to deal with the Barry Melrose factor. First of all… the words "Barry" and "Melrose" are meant to be used solely in conjunction with "pompous ass" at all times. Yes, Mr. Melrose did make a comment to the effect of "Don't carry your wallet with you when visiting Newark". But how convenient of you, Michael, to conveniently forget to mention the part about Barry admitting, after the fact, that he had never even been to Prudential Center and thusly accepted a tour of the city from Mayor Corey Booker that he thoroughly enjoyed. I guess it's fitting you find his words worthwhile.
On a somewhat related note, the "closing" of Prudential Center this summer that you refer to was merely due to technicalities because of documents not being turned in on time, not for "endangering the lives of all those who attend."
Wow…all this, and we haven't even hit the ice yet!
Now, I cannot sit here and say to you with a straight face that I am not disappointed by watching the likes of Scott Niedermayer, Brian Rafalski, and Scott Gomez leave the team after such memorable moments. What I can say to you, is that they (with the exception of Niedermayer) left for a big paycheck elsewhere. I would rather have a group of guys that are willing to compete fiercely every shift for a shot at glory than have a roster full of Scott Gomez's that feel they deserve a $10 million paycheck for 13 goals. While I admit that Lou Lamoriello hasn't exactly struck gold in the FA market since the lockout, and I won't sit here and feed you some bullsh!t about me liking Vlad Malakhov, I will point out how you graciously opted to ignore the addition of Brian Rolston not even a month ago. Not a wise move. Not a wise move at all.
Others like Grant Marshall, Brad Lukowich, and Richard Matvichuk were victims of the new Salary-Cap era, not roster eviscerations. Speaking of the Salary Cap, I'd be a little worried if I were you, Mr. Ramos, as it seems that the Rangers have over $145 million combined tied up in 5 players until the 2013-2014 season. Not to mention The Rangers will be paying Bobby Holik even more than we are this season, and he'll be playing for US! What were you saying about ludicrous signings? 2002 wasn't that long ago.
It's obvious that down in Lowell things haven't been all roses, but saying that the team is filled with "old AHL players without any chance to make it to the NHL" is a little much… I mean, you did just sign Aaron Voros didn't you?? Delving further into the minor leagues, I'd like to point out that the Trenton Devils of the ECHL will not be kicked out of their building… it is nothing more than a rumor. And a weak one at that.
Allow me to end this with some blogger-to-blogger advice… An article meant to ridicule a rival that is devoid of facts and supporting arguments is about as effective as a mesh condom. The next time you are going to write a whole bunch of smack, it might be a good idea to at least do your homework.